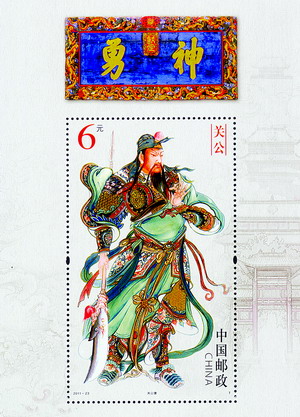 A souvenir sheet of stamps bearing Guan Gong's portrait
The opening on September 12 of the 22nd Yuncheng International Guan Gong Cultural Tourism Festival in Haizhou Guan Di Square, Yuncheng, northwest China's Shanxi Province also saw the issue of the special stampset and sheet dedicated to the famous historical figure Guan Gong.

Vice President of China Post Group Fengxinsheng, Director of the Publicity Department of Shanxi Provincial Party Committee Guo Yufu and Secretary of Yucheng Municipal Party Committee Gao Weidong attended the launch ceremony.

The Guan Gong stamp series includes two sheets of regular stamps, respectively titled Riding Alone for Thousands of Miles and Reading the Spring and Autumn Annals at Night, and a souvenir sheet of stamps bearing Guan Gong's portrait.

Guan Gong (or Guan Yu) (160-220) was a general serving under the warlord Liu Bei during the late Eastern Han Dynasty. He played a significant role in the civil war that led to the collapse of the Han Dynasty and the establishment of the state of Shu Han during the Three Kingdoms period, of which Liu Bei was the first emperor. As one of the best known Chinese historical figures throughout East Asia, Guan Gong was admired for his ability to wield both pen and sword. The special stamp series celebrates his incomparable bravery and intelligence.

In efforts to satisfy philatelists, Shanxi Provincial Postal Company put their best designers to work on the Guan Gong series. Yuncheng Postal Bureau also set up a temporary service at the launch to imprint postmarks on the stamps.