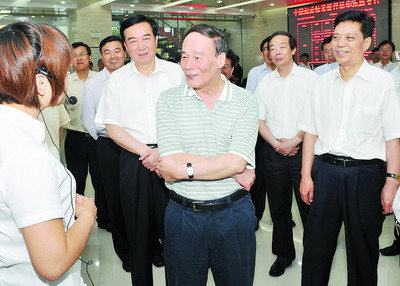 Member of the Political Bureau of the CPC Central Committee and Vice Premier of the State Council Wang Qishan paid a two-day visit on July 1 to Shijiazhuang, capital city of Hebei Province, and chaired the Symposium on Finance Services for Small Enterprises. He stressed that employment is the foundation of people's livelihood and that the existence and development of small enterprises directly relates to employment growth, economic transformation and social stability. We should accelerate the transformation of the finance industry, promote structural transformation and renovation and enhance financial services for small enterprises, the Vice Premier said.

Vice Premier Wang Qishan arrived at Shijiazhuang Yuhua Branch Postal Savings Banks on July 2 to inspect work there. He was accompanied by officials from the State Council and related provincial departments and responsible persons from state commercial banks.

Wang first came to the business hall counter where he asked about the scale and structure of savings and loans, network settings, service ability and employee assessment and chatted cordially with bank workers. The Vice Premier talked to customers in the small enterprise loans and small loans sector, asking about the loans they needed for their small enterprises and their opinion on the bank's services. Wang said that postal savings banks should go all out to excel in small enterprise financing services, develop businesses and win customers with quality services, and continue to formulate new programs.

Wang Qishan pointed out that the key to mitigating difficulties in the financing of small enterprises is to adopt measures to accelerate financial reform and systematic updates and bring the market mechanism and policy support into full play. He stressed that the finance industry will prosper and be stable along with the industries they finance, and that we should balance the real and virtual economy, the government and the market, strengthen financial surveillance, regulate market order, prevent moral hazards and safeguard the bottom line of no systematic and regional financial risks.