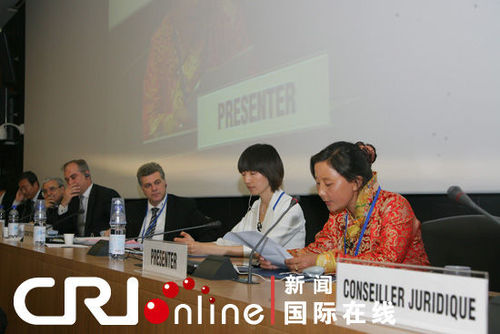 Tibetan mailwoman Nima Lamu (R1) makes speeches at an annual gathering of the Universal Postal Union (UPU) held here on May 13.
The story of the Tibetan mailwoman Nima Lamu, and her dedication to mail services in the mountainous areas of southwestern China, have won her applauds from representatives of over 70 countries at an annual gathering of the Universal Postal Union (UPU) held at Bern, Switzerland, on May 13.

At the Annual Meeting of the UPU Council of Administration, the 35-year-old Nima Lamu, who has served for 12 years as village mailwoman in Diqing Prefecture of southwest China's Yunnan Province, spoke on behalf of over 840,000 Chinese mail service staff.

Conditions in which Nima works are extremely harsh. Surrounded by steep mountains and canyons, the Diqing Prefecture, also known as Shangri-La, is situated in the Hengduan Mountains on the southeast fringe of the Qinghai-Tibet Plateau where three rivers flow side by side.

Transport conditions there are particularly bad, as the altitude in this area varies from 1,000 to 4,500 meters. Many villages are located in mountain valleys, letters and parcels must be delivered on foot.

Some of the routes which Nima takes on mail delivery require up to six days of walk for a round trip and traversing harsh terrains up and down the 4,000 meter-plus Mountains, even sliding along the overhead ropeway to cross the valley.

She must also beware of falling rocks, landslides, or even mudslides when walking her routes, as well as the occasional wild animals and the frequently changed weather conditions and temperatures in the mountain region.

Nima's entire postal route thus covers around 350 kilometers, and serves more than 5,400 people living in a 960 square kilometer area. The mailbags she carries under these arduous conditions weigh at least 15 kilograms.

Even in these conditions, she have walked over 100,000 kilometers on the mail route since she joined the service in 1999.

"As transport and communications in our area are difficult, people in my area depend on postal services," Nima told the gathering, adding that she sees her work as a glorious and sacred duty.

Speaking about the difficulties she faces, Nima said the desolate mountains and unwelcome solitude are the hardest things to bear. So she often sings folk songs to boost morale or banish loneliness.

But the importance of the work gives Nima source of encouragement. "My happiest time is delivering college admission notices," Nima said.

"I feel genuinely happy at the thought of these children leaving the mountains to build bright futures," she explained.

In recent years, with the help of telecommunications services, Nima's fellow residents gained more accessed to the outside. The contents of Nima's parcels are changing.

The mailwoman now deliver more than 200 cell phones a year, and carry three bags as compared to only one in the past, which adds 15 kg to her load.

"I know my bags will become heavier, but as long as my fellow residents are happy, my pain and fatigue are worthwhile," Nima said.