China Post/US Postal Service/eBay Triumvirate
China Post/US Postal Service/eBay Triumvirate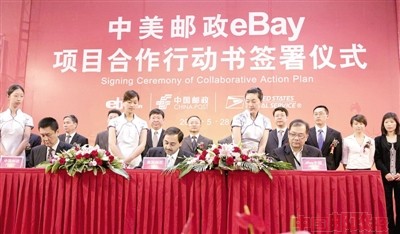 Representatives of the three sides sign the cooperative agreement.


China Post, the US Postal Service and ebay China signed on May 28, 2010 in Shanghai a cooperation agreement wherein all three sides will co-plan and operate an e-commerce delivery platform that enables eBay China sellers to send commodities to US buyers via postal express more conveniently, timely and accurately.

The three entities will formulate an information system that provides its users - small companies and individuals – with a streamlined cross-border service by virtue of their seamless operation of a business operations platform and information system.

During its 100-year history, China Post has extended its services to every city, county and town in China. In recent years it has focused on e-commerce and international development, vice general manager of China Post Liu Mingguang said at the signing ceremony.

Founded in September 1995, eBay is a global online trading market for individuals and companies to buy and sell commodities. Ebay China focuses on Chinese small companies and individuals.


Register number: 京ICP备15035540号 京公网安备110401400185号
Powered by CHINA POST | About Us | Sitemap | Contact Us |