Commemorative Stamps Celebrating 50th Anniversary of Sino-Cuba Diplomatic Relations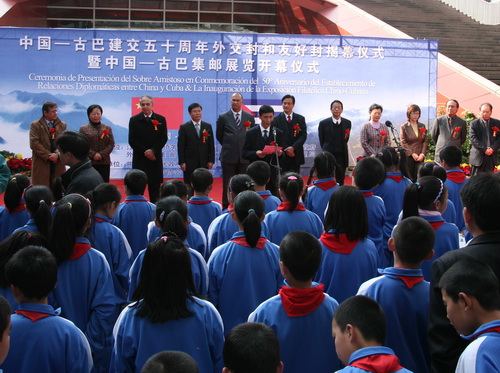 At the initiation ceremony of commemorative stamps issued by the Cuba Post celebrating the 50th anniversary of the Sino-Cuba diplomatic relations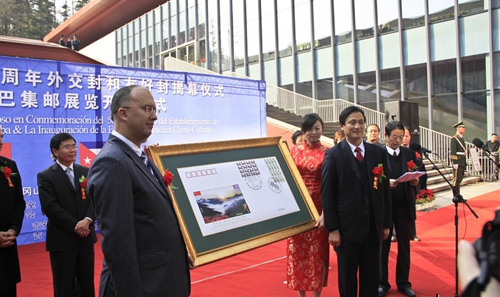 December 5, 2010, saw the initiation ceremony of commemorative stamps issued by the Cuba Post celebrating the 50th anniversary of Sino-Cuba diplomatic relations at Jinggangshan Revolutionary Museum in Jianggangshan City of South China's Jiangxi Province.

The collection contains four stamps signifying the friendly relationship between the two nations. One of them depicts the scenic view of Huangyangjie in Jinggangshan City, and the other stamp depicts the oil painting titled, Meeting of the Red Army in Jinggangshan. This is the first time the view of Jinggangshan has ever appeared on a Cuban stamp. The third stamp features the Sierra Maestra Mountain, known as the Cradle of the Cuban Revolution, and the last one portrays the parade celebrating the 50th anniversary of the landing of the Granma.

In 1999, to commemorate the 50th anniversary of the founding of People's Republic of China, Cuba Post issued a collection of stamps picturing one of China's historical events, the Sanwan Reorganization.

On the same day, China National Philatelic Corporation, for the first time, issued 5,500 commemorative envelopes for this diplomatic activity in the province. The envelope depicts Jinggangshan and the Sierra Maestra Mountain and has on it commemorative postmarks of both countries.

The series of diplomatic commemorative envelopes was jointly initiated by the Philatelic Association of the Ministry of Foreign Affairs and the China National Philatelic Corporation on January 1, 1999. As for more than 100 countries that have established diplomatic relations with China, commemorative envelopes will be issued every fifth or tenth anniversary year of diplomatic relations. The first series of envelopes features the anniversaries of the Sino-US relations, and the rest were issued in the following five years. With significant themes, elegant design, various style, and limited editions of 50,000 copies, these envelopes have drawn the attention of more and more stamp collectors. By the end of 2009, China had issued 179 such envelopes.

The initiation ceremony also marked the beginning of the tour exhibition of Chinese and Cuban stamps. Fifty Chinese children and 50 Cuban children sent letters to each other after the ceremony.