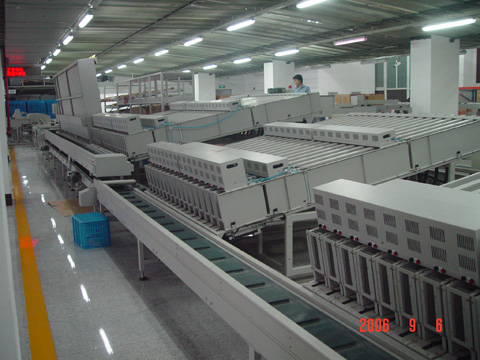 The effective and totally automated tobacco distribution system is designed by CPST Logistics System Integration Company for medium and large Chinese tobacco distribution center to reach the automation of tobacco sorting and distributing, and the information management. The system integrated various advantages of "Vertical Automatic Distribution System of Tobacco Logistics", through the R&D and innovation, the design highlighted a capacity of the system with high-productivity and totally integrated automation.
The system adopted advanced network technology and information processing technology, to make the information processing for Tobacco storage, to control the tobacco's automatic sorting ?individual packing and distribution.
Note: User solutions tailored to your needs
System Feature
Automatic tobacco feeding? distributing? packing.
High-effective tabacco distribution system
Clear interface of system operation, easy manipulation and maintenance
Equipped with graphic equipment supervision system and perfect excel function
Clear and easy layout with reasonable structure, minimal floor space requirement
Reasonable residual space for excess of storage, easy adjustment, effective for increasing productivity
Close connection between feeding and distribution data
Storage equipped with tracing and positioning device such as POS
Stable system ? high-reliability
Main Technical Specification
Efficiency of system: 14000?16000?18000 piece/h
Transportable size of tobacco: length x width x height (standard packing) = (270-292) x (88-90) x (47-49) mm
Container specification: length x width x height = 520x350x320mm
Maximum capacity of container: 30 piece /container or plastic packing
Acceptable type of tobacco at the same feeding time: random (no restriction)
Account No. of tobacco feeding: random (no restriction)
The efficiency of automatic packing machine: 600 boxes/h (totally automated packing )
The way of container supply: automatic delivering to packing place
Information network connection: 100M Ethernet
Means of data output: printer output
Temperature: 5-40 degree
Power supply: Triphase AC: 380V ± 10%; Uniphase AC: 220V±10%; Frequency: 50HZ (±1Hz)
Successful Cases
Jinzhong Tobacco Co.
Chaohu Tobacco Co.
Datong Tobacco Co.
Wenzhou Tobacco Co.
Shenyang Tobacco Co.