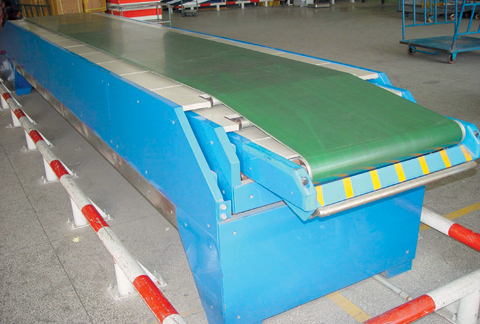 Extension belt conveyor is a continuous conveyor by flexibility convey belt to bear the weight of goods.
By frictional principle, transmission rollers bring along convey belt to make convey belt extension and constriction. Extension belt conveyor may be used in convey scatter, clump and finished products, it is mainly used in loading and unloading. It can be used together with other convey facilities.
Its characteristic is strong conveying ability, small power wastage, low noises, goods can be conveyed to random location in the carriage, labor-saving intension.
Main technical performance specifications:
1/ conveying belt dimension: 3*600, 3*800 (mm)
2/ extension segment: 2-4
3/ conveyor dimension: according to users' needs
4/ convey speed: 0.4~0.8 m/s
Extension speed: 0.15~0.45 m/s
5/ convey direction: double
6/ power: 2.2kw, 1.1kw
7/ noise: ≤70dB(A)