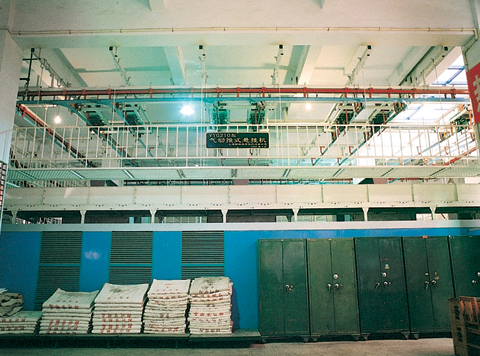 Push suspending machine is a continuous conveyor. It is used continuously in conveying finished products within workshop and between workshops. It is used in conveying goods between various industrial parts.
The system draught parts adopt new double ream chains. Dual drive device adopts big chain wheel structure, variational frequency and adjusted speed control system, runcalm, reliable, protected function is good. Pass in turnoffs and stop apparatus are controlled by pneumatic power and electrical power.
This system's suspend devices all use standard steel.
Main technical performance specifications:
1/ operating efficiency of the whole system: 1000 bag/hour
2/ drive power: 1.5~3 kw
3/ gap between push-heads: 1050 mm
4/ load of the clamp cart: 40kg
5/ average malfunction-free working time: ≥600 hours
6/ chain linear velocity: 0.29 m/s
7/ noise: ≤ 72dB(A)
8/ ambient temperature:
Temperature: -5~40℃
Humidity: ≤85%
Power voltage: 220v ±10% or 380v ±10%