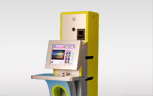 Beijing Research & Design Institute of Postal Science (BRIPS) is headquartered in the elegant Fangzhuang Community, with 3300 square meter office area. We have highly qualified R&D teams that constitute of talents with bachelor or higher degrees, and advanced IT facilities. Now we have 120 employees, 95% of them are specialized technicians, and 29% of them are senior engineers. BRIPS has many R&D departments, including IT System Engineering Department, Electromechanical Engineering Department, Construction Design Department, Soft Science and System Standard Research Center etc. BRIPS has passed Beijing Science and Technology Research and Development Institution Certification in 2002.

BRIPS had acquired 46 national, provincial and bureau grade awards in IT, electromechanical, soft science and system standard research projects, such as "Postal Branch Office Integrated Information System", "National Newspaper and Magazine Distribution Service Computer Processing Network System", "Vibration Frictional Strapping Machine" etc.

Following the operation idea of "Truthful and Creditable, Cooperation and Win Together", and based on information technology, BRIPS will continue to increase its innovation capacity, and carry out research and development works for unified version of national postal system, communication production application system, postal self service devices.