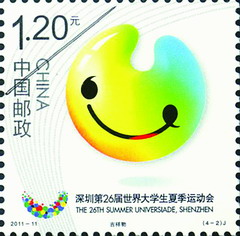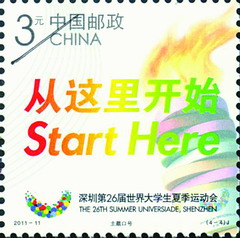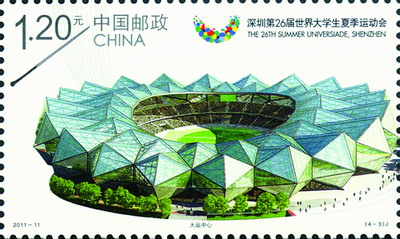 The initiation ceremony of the stamps commemorating the 26th Universiade, issued by China Post Group, took place in Shenzhen on May 4, the 100-day countdown of the 26th Universiade 2011 Shenzhen.

  The collection contains four stamps, depicting the emblem, mascot, the main stadium, and the slogan of the Shenzhen Universiade. The first and second are se-tenant stamps, as are the third and the fourth. China Post issued 10 large-sized editions of the collection and 2 small-sized editions, each containing 20 and 8 stamps respectively. The stamps are creative in their design and style, whose different compositions and diversified layouts create a new style in China's stamp issuing history and annotate Shenzhen Universiade's unique and innovative culture.

  The China Post Group also made public personalized stamps, depicting the emblem, the mascot, the slogan, the torch, the medals, the stadium and the sports events, as well as Shenzhen's famous landmarks. The personalized stamps are supplements and extensions of the commemorative stamps. To go with the picture, each edition of the personalized stamps is designed with different perforation on the sides, such as circular and square perforation, to showcase Shenzhen as an innovative, open and civilized city and a young, dynamic and fashionable host of the games.

  On the same day the Shenzhen Universiade torch relay began in the first stop - Peking University, birthplace of the May Fourth Movement in 1919. It means that the torch will be passed down by university students of the new generation, following the footsteps of the pacesetters of the May Fourth Anti-Imperialist and Patriotic Movement.