China Post Commended for Public Service
China Post Commended for Public Service
The launch ceremony of the China Post Care Package Charity Program 2012 was held at the Great Hall of the People in Beijing on April 11, 2012.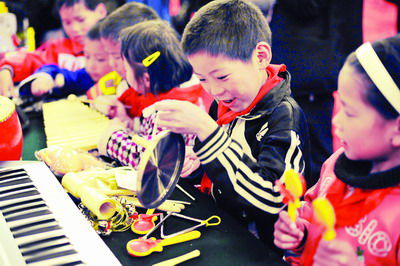 Students from southeast China's Guizhou Province are excited to see different kinds of musical instruments in the care packages at the Great Hall of the People in Beijing. [China Post/Wang Shunli]


Vice-Chairperson of the 9th and 10th National People's Congress (NPC) Cheng Siwei presented the China Poverty Alleviation Charity Contribution award to China Post at the ceremony. Also in attendance was Vice President of China Post Zhang Ronglin.

Last year, the charity program collected 44.5 million yuan (US $ 7.06 million) and received more than 400,000 pieces of donated packages. Statistics show that 383,994 needy students from 2,353 schools across 28 provinces, districts, cities and 180 counties received the care packages.

At the ceremony, Zhang Ronglin said that China Post has been working hard to promote charity work. The care package program has raised a total of 230 million yuan (US $ 36.5 million) to benefit two million needy students in the past three years.

This year's care packages will include stationery and musical instruments to facilitate musical education in poverty-stricken regions.

Register number: 京ICP备15035540号 京公网安备110401400185号
Powered by CHINA POST | About Us | Sitemap | Contact Us |