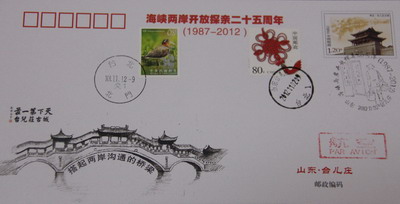 An exhibited commemorative envelope
Tai'erzhuang Ancient Town Post Museum in eastern China's Shandong Province launched an exhibition of commemorative envelopes to celebrate the '25th Anniversary of Cross-strait Open Visit' on December 17, 2012, which was also the third anniversary of the establishment of the Tai'erzhuang Ancient Town as a cross-strait communications base.

The commemorative envelope features the typical architecture of Tai'erzhuang Ancient Town, the special town's commemorative stamps and traditional Chinese knot patterns.

Three hundred of such envelopes were produced by the Tai'erzhuang District Post Office in Zaozhuang City of Shandong Province and sent to Taiwan's post collection groups on December 3, 2012.

The envelopes were then sent back to Tai'erzhuang after being stamped by different post offices in Taipei City. Tai'erzhuang Post Office has received 200 of these commemorative envelopes back, together with letters from many Taiwanese celebrities.

According to activity participant Yu Fuxin, a Taiwanese writer now living in Tai'erzhuang, the activity was very meaningful and served an important role in promoting cross-strait ties.