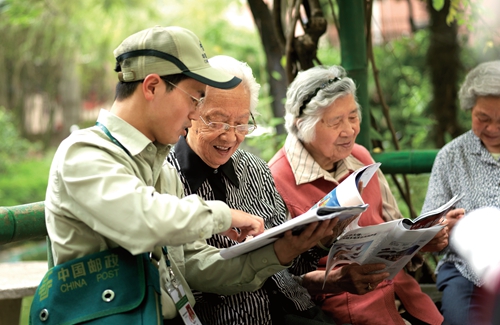 Ye Qidong (L) delivers a magazine to a recipient. [China Post]
Ye Qidong decided to become a mail carrier when he was a little boy because he saw how happy the people in his village were whenever they received letters.
He became even more determined when he learned that the local mail carrier was responsible for 18 villages in the area. As a young child, he would dream about wearing the uniform of a mail carrier and delivering letters to people.
So when Ye learned in 1998 that the Caoyang New Village Post Office in Shanghai was recruiting, he did not hesitate to apply. Since then, his hard work and dedication to his career have earned him the nickname 'The Camel'. Over the past 14 years, Ye has delivered more than 16 million letters, 12 million copies of newspapers and 5,400 packages, including more than 2,200 letters and 500 packages whose recipients had changed addresses.
Determination
As a mail carrier, Ye's work is intense and challenging. This is especially so in recent years, as many people have flooded into Shanghai for job opportunities and the volume of mail he has to deliver has increased. 
To complicate matters, many of the addresses on the letters and packages Ye has to send are not correct. Although post office regulations state that he can return these to the senders, he persists in looking for the recipients because he believes that every piece of mail is important.
As a result, he often travels around his mail route even when he is off work. He takes note of the changes in addresses of every high-rise, house, school and store.
Once, he had to deliver a package addressed to 'No. 20 Changfeng New Village'. Unfortunately, there were four villages around with that same name.
So Ye rode his bicycle to every one of those villages and finally delivered the package one hour later. As it turned out, the package contained some urgently needed medication.
Another time, he had to deliver a letter addressed to 'Room 16, Guangfuxi Road', without any other information. Since the address was written in English, Ye guessed that the recipient was probably a foreign teacher living in one of the buildings near East China Normal University.
He visited three high-rises with more than 16 floors before he came across a building marked number 16. In order to make sure that the 'Room 16' on the letter was not actually the building number, he visited almost every apartment in the building but failed to find the recipient. He persisted and finally found the recipient in another high-rise. The recipient was a foreign teacher just like he had guessed. The teacher was amazed by his work and praised his efforts.
A Promise
One of the villages on his route is Shida No. 2 Village, where Ye found that most residents were retired teachers and professors. Given that most of them are senior citizens, Ye promised to deliver every piece of mail directly to their homes.
Qian Gurong, an acclaimed art theorist, is one of the senior citizens who has benefited from Ye's promised service. Qian lives on the third floor and is in his 90s. He often finds it difficult to go downstairs to his postbox to get the mail.
Over time, Ye and Qian have become close friends. Qian occasionally invites Ye to play Chinese chess in his home.
In 2012, Ye was recognized as a 'Touching Shanghai' figure, an event organized by the Shanghai government to recognize pe0ple who have contributed to local development. Qian specially attended the awards ceremony to present the award to Ye and express his gratitude on behalf of the residents in his community.
Ye also printed his personal mobile number on his business cards so that the local residents can call him anytime they need him.
Charity Work
Apart from his postal services, Ye is passionate when it comes to charity work. He regularly volunteers to help the senior citizens at the Changfeng Nursing Home in Putuo District, Shanghai.
He began volunteering there when he visited one of his clients who lived there in 2005. When he learned that the residents had limited newspapers to read, he donated 1,500 yuan (US$ 245) to subscribe to the Jiefang Daily, Shanghai Seniors' Newspaper and Longevity magazine for the nursing home. Since then, Ye has been donating newspapers and magazines to the senior citizens there for their reading enjoyment.
Ye also hand delivers all of their mail and helps them to buy stamps and envelopes. Whenever he is free, he brings them daily use items such as snacks and new towels and toothbrushes.
During the Shanghai World Expo 2010, the residents expressed a wish to see the exhibits. Since the visit would have been too strenuous for most of them, Ye brought his laptop and several maps of the expo park to the nursing home to show them the three-dimensional images of the expo on its official website.
For his dedication, Ye has been selected as an advanced postal worker in Shanghai six times. He was also Shanghai's labor model between 2004 and 2006, one of the 2005 national top 100 mail carriers, one of Shanghai's 2006 skilled workers, winner of the national labor day medal and one of the 2012 top 10 'Touching Shanghai' figures.
"My dream is to do my current work well and live my life fully. It is a form of wealth to help others and bring them happiness," said Ye.
(China Post)