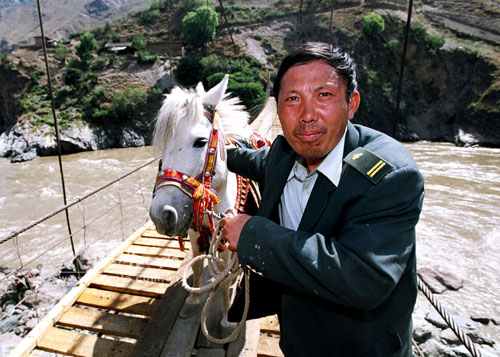 Wang Shunyou inherited his father's mail delivery job in Muli Tibetan Autonomous County of southwest China's Sichuan Province 20 years ago.
Wang Shunyou is an ordinary man with an extraordinary honor. A mail carrier in the Muli County of the Liangshan Yi Autonomous Prefecture, he has been conferred the title of excellent member of the Communist Party, and also the title of national model worker and national role model. He was also selected as one of the top 100 people who moved China.

For 25 years, he worked among the mountains and never lost a single piece of mail. He still recalls his many adventures during his heyday as a mail carrier in the region. Once, he was attacked by bandits and jumped into a river to save the mail. His life and career was spent in the mountains alone with his horse.

He has since then become a grandfather, but still works. Serious rheumatism has meant that his postal route has become shorter and even though his organization offered to dispatch him to the County Post Bureau, he is reluctant to leave. He still rides his horse through the mountains to send the mail.

When talking about the postal road, he said: "Muli is my hometown. In recent years it has undergone great changes. In the past we had to send the mail to the villages, but now when the mail reaches the town, villagers who have telephones or mobile phones can be called to come and pick them up, making it a lot more convenient than before." He also said: "My work is also easier than before, but I know, there are so many county postmen like me in China and many of them face a lot more hardship."

In the past, there were 65 postal roads that used horses in Sichuan Province. With the development of transportation, there are now 25 roads, 15 of which are in Muli County. Wang's old postal road has now been taken over by a younger guy.

Wang has been on that road for 20 years, and when he left, he said he missed it a lot. "Sometimes, I still dream I'm walking on that road," he said. Fellow villagers also miss him and often ask after him. They even get someone to bring him his favorite butter and potatoes sometimes.

"For the past 20 years, I haven't spent that much time with my family. In one month, I would only spend one or two days with them," said Wang. He has 6 acres of farm fields and now that he has more spare time, he can sometimes accompany his family when they work in the fields.

Wang also loves to sing. In his two decades of serving as a mail carrier, he has made up many songs, most of them inspired by his natural surroundings.