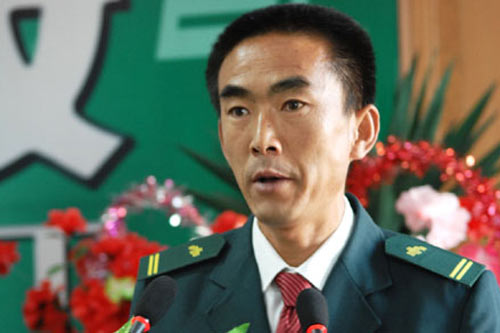 Quan Erping
Quan Erping, born in January 1971, is a Communist Party of China (CPC) member and the director, as well as a postman of the Xiaoshetai Post Office of Inner Mongolia. He has worked at this post for 16 years. He has worked conscientiously to serve the villagers and to help them alleviate their poverty. His work has been widely recognized and praised. He has been honored with titles such as Outstanding Youth and CPC Member, Model Service Worker, and Outstanding Postman.
Quan Erping is in charge of the postal services of an area, encircled by mountains, where the road leading to the township government only allows a cart to pass. The climate there is constantly changeable.
Because of the poor conditions, several postmen before Quan quit the job. Quan came to the post in 1991.
Quan's job was to finish delivery to the more than 80 postal recipients in over 40 villages. To finish the task, he must cover 100 kilometers' of mountainous roads. In the past 16 years, Quan has gone through five bicycles and two motorcycles.
Villagers' Muddy Deliverer
One villager, Wang Peixiong, will never forget the moment he received his college enrollment notice from a muddy Quan, who had motored all the way through the mud and loose sand to ensure on-time delivery.
"It's not easy for a rural kid to get into college. It was an event worth celebrating for all the villagers. Therefore, we like to deliver mail like that." Quan recalled.
In Quan's postal sachel, there are family letters and money orders, as well as Party and government documents.
The Secretary of the Xiaoyutai Party Committee, Liu Jiping, said: "We know the Central Government's polices from the documents and newspapers he delivers. We can't live without him."
A receiver' address or unknown name is a common occurrence for Quan Erping; but he always tries his best to find the receiver, unafraid of traveling great distances.
When the harvest season comes, Quan will fetch letters and parcels on behalf of the busy villagers. Some villagers will give Quan their house key so that he can find their seal and stamp it on the mail sheet. The villagers call Quan Erping 'a reliable postman'.
Free Purchaser
Due to the inconvenience of transporting goods, villagers have to buy agricultural products and daily necessities from faraway places. Because Quan Erping has a motorcycle, he has become the villager's 'free buyer'.
Quan keeps notes on the things the villagers ask him to buy in a booklet that he keeps in his sachel, where he writes everything down. Quan will bring back baskets, fertilizer, seeds and plastic mulch in the Spring, pesticides and vegetables in the Summer; and he will help villagers buy festival goods at the end of year.
Quan's motorcycle has also served as means of transportation. Quan has often given those coming out of town a lift on his motorcycle. There have also been times when Quan used his motorcycle to send urgently ill patients to hospitals.
Guide to Wealth
As the postman, Quan Erping has the opportunity to know about the government's policies from the magazines and newspapers that he delivers.
He gradually came to realize that to lift people out of poverty; we should first have knowledge and rely on technology. Since 1994, Quan has subscribed to some magazines for his village; and he has written a reading column and organized lectures for the villagers to learn about science from the experts that he has invited to speak to the villagers.
He has led the villagers in projects to repair the old road. Now, the road is linked with outside highway; and the village's specialties can be sent out as well.
He solved the villagers' problems of drinking water and irrigation projects.
A Kind-hearted Person
Quan Erping is a kind-hearted person. His family adopted Ren Xiuju, a blind, childless woman when Quan was seven. They took her in and cared for her as their own family member. Quan would give her water, help to feed her, and help her wash hair. Villagers say Ren lived as well as those women who have children, perhaps even better.
Quan always helps the villagers do their chores, especially those villagers who have difficulty living on their own. Liu Cai is such a person. He has poor eyesight; and Quan helped him do household chores and to organize things in his house to make his life easier.
Quan's motto is "It is uncommon to do common things well." Under Quan's influence, everyone in the village has becomes more friendly and helpful.