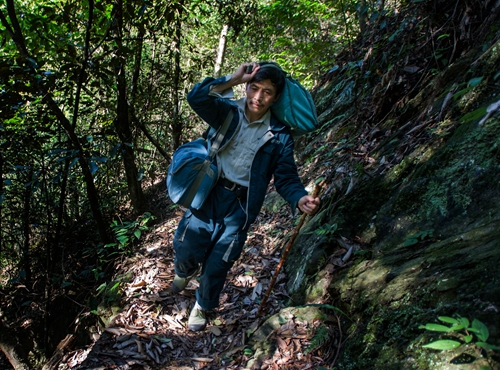 Zhang Meichong has worked as a postman in central China's Hubei Province for 14 years. [China Post]
Zhang Meichong, has worked as a postman in central China's Hubei Province for 14 years, serving villagers in the mountainous Hexi Village in Xintang Township, Enshi Tujia Autonomous Region.
Hexi Village, located in the mountainous region of western Hubei Province, is the only village left in the province without paved roads. However, delivering newspapers, postal mail and small packages to villagers in Hexi Village is a routine job for Zhang, who insists on doing his work competently without complaining.
The back-and-forth postal journey to the village crosses 108 kilometers, requiring Zhang to spend three days on the road in order to finish postal delivery and then return.
With steep mountains, stumbling forest roads, and lonesome rivers and streams, the journey is full of hardships. Over the past 14 years, Zhang has worn out 190 pairs of shoes, 80 post bags and has finished an astonishing journey totaling 170,000 kilometers.
In total, Zhang has delivered more than 730,000 newspapers, 120,000 magazines, 45,000 letters, 13,000 EMS items, 10,000 post package notices and 20,000 remittance notices without any mistakes.
Due to his long-term task of constantly shouldering postal bags weighing more than 20 kilograms, Zhang's right shoulder has become a little higher than the left one. However, he has a strong sense of achievement when thinking about his work. "As a postman, realizing the goal of zero loss of postal items and on–time-delivery has become my greatest success," said Zhang.
(China Post)