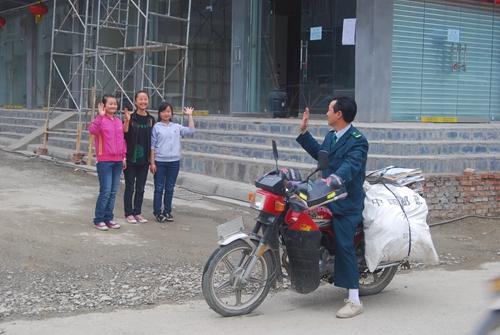 He Xianlun waves goodbye to his three daughters and reminds them to take care, as he needs to come back the next day for his delivery to a remote village. [China Post]
He Xianlun has been hailed as a model postman for his decade-long conscientious diligence and contribution to Qingchuan County, Guangyuan City, southwest China's Sichuan Province.
As a postman, He Xianlun takes advantage of post services in collection and distribution to assist the local government in distributing land compensation, demolition compensation and various insurances, totaling more than 23 million yuan (U.S. $3.76 million), to more than 1,600 households.
When the Wenchuan earthquake jolted Sichuan in 2008, He and his colleagues rushed to dig out survivors, depositing more than 200,000 yuan (U.S. $32,690) and various documents. However, when he returned home, 22 of his family relatives, including his father, older brother and sister-in-law, died in the earthquake.
Nowadays, He not only takes care of his daughter but also takes on the responsibility of supporting the daughter of his elder brother and the daughter of his younger brother. "As long as the three children live happily and study hard, I think my efforts are worth it no matter how hard and tiring the work," said He Xianlun.
(China Post)