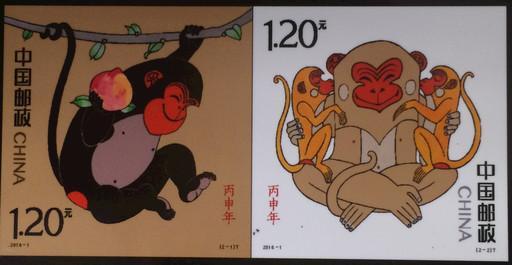 A sample of the soon-to-be-released postage stamps.
A ceremony was held by the Postage Stamp Printing Bureau of the China Post Group at its headquarters in Beijing on August 6 to introduce its official "Year of the Monkey" stamps that are expected to be released to the public on January 5, 2016.
One of the forthcoming stamps shows a friendly male monkey, while the other stamp shows a female monkey leading her two children by the hand.
The latest action aims to welcome the arrival of the "Year of the Monkey" in 2016 and mark the beginning of the fourth round in the endeavor by the bureau to print animal stamps. So far, animal stamps have been released in only three batches over the past 36 years.
The Chinese animal signs follow a 12-year cycle used for dating the years, and they represent a cyclical concept of time, rather than the Western linear view. The Chinese Lunar Calendar is based on the cycles of the moon and is constructed differently to the Western solar calendar. Although Chinese people have adopted the Western calendar since 1911, the Lunar Calendar is still used for festive occasions such as the Chinese New Year. For instance, to the convenience of the Chinese rural residents in particular, many calendars still print lunar dates, along with the solar versions.
At the ceremony, Li Pizheng, vice-president and member of China Post Group Committee of the Communist Party of China (CPC), said that the China Post Group had attached much attention to the task and introduced innovative measures with the active participation of nine professionals from the China Banknote Printing and Minting Corporation (CBPM) and the Postage Stamp Printing Bureau, in order to ensure the completion of the printing during the upcoming several months.
Those in attendance at the ceremony included Huang Yongyu, a well-known Chinese artist, Li Guohua, president and deputy secretary of China Post Group CPC Committee, and Bai Yansong, a famous domestic TV anchor.
Attendees pose for a group photo at the opening ceremony.