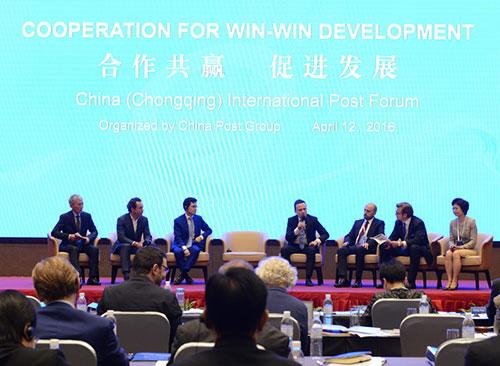 Several delegates hold dialogues.
Representatives from Universal Postal Union (UPU), China Post Group, and postal organizations from other countries held intensive discussions about the development of e-commerce services, postal delivery across nations and other common-concern issues at the 2016 China (Chongqing) International Post Forum, the theme of which was defined as "Cooperation for Win-Win Development", held in southwest China's Chongqing Municipality on April 12-13.
"Member countries have reached a consensus that e-commerce is crucial to the further growth of the postal industry. Meanwhile, they are expected to strengthen cooperation on the improvement of services with an emphasis upon innovation. The introduction of transcontinental railway delivery will inject fresh vitality into e-commerce," Secretary-General of UPU Bishar A.Hussein said at the forum.
"Chongqing has benefited a lot from newly introduced financial services by China Post based on the further development of cross-border delivery and e-commerce in rural regions over recent years. The Eurasia International Railway, which starts in Chongqing and ends in Duisburg, Germany, has become a key route for business exchange between Asian countries and Europe. Relevant nations along the transcontinental railway line are expected to deepen cooperation in the promotion of cross-border e-commerce services and postal affairs," Mayor of Chongqing People's Government Huang Qifan noted in his speech.
"Recent years have seen a remarkable increase of cross-border postal delivery related to e-commercial exchanges, which is becoming a focus for the postal industry in involved countries. As an important player in the field of cross-border e-commerce, its fast growth has provided China Post with unprecedented opportunities and challenges in the further expansion of its businesses. Therefore, China Post is delighted to further its interactions and exchanges with foreign postal enterprises in this field in future," President of China Post Li Guohua said.
In addition, delegates from attending nations issued the Chongqing Declaration of the Further Development of Cross-border E-commerce, in which involved countries pledged to strengthen cooperation, work out postal services conducive to the growth of cross-border e-commerce, build regular contacts with domestic customs agencies regarding the supervision of cross-border postal packages, make full use of the Eurasia International Railway, and reach balanced growth between the postal industry and environment.
Participants at the forum.

Attendees pose for a group photo.