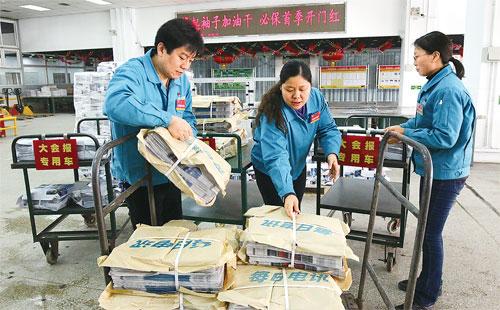 China Post Beijing Prepares for Two Sessions Services. [China Post]
The fifth session of the 12th National Committee of the Chinese People's Political Consultative Conference and the fifth session of the 12th National People's Congress opened on March 3 and March 5 respectively at the Great Hall of the People in Beijing.
China Post Beijing, Postal Savings Bank of China Beijing and China Postal Express & Logistics established a coordinated service guarantee mechanism, set up a communication work group and developed postal communication and contingency plans as they made careful arrangements in personnel distribution, operations and security.
Service units are on a 24-hour on duty system and will file reports on important matters to help guarantee successful communication services during the two sessions.
China Post Beijing requires that all branches select personnel of high political quality and strong sense of service be assigned to temporary service centers, and that all service centers announce business hours, responsible persons, and contact and service supervision telephone numbers.
Postal service centers should have the complete range of articles of postal use in supply, ensure production equipment is effective, be equipped with point of sales machines, provide WeChat payment services and tax control invoice printing equipment to ensure deputies at the National People's Congress and members of the Chinese People's Political Consultative Conference can use charge cards and receive invoices.
The Beijing Municipal Bureau of Press and Publication and Beijing Central Office for postal areas will assign individuals to manage subscriptions and sale of Two Session publications.
News retail companies in Beijing are responsible for selling Party newspapers and keeping them available during the sessions.
All service units for the Two Sessions will implement major event reporting and 24-hour duty systems beginning on March 1.
(China Post)