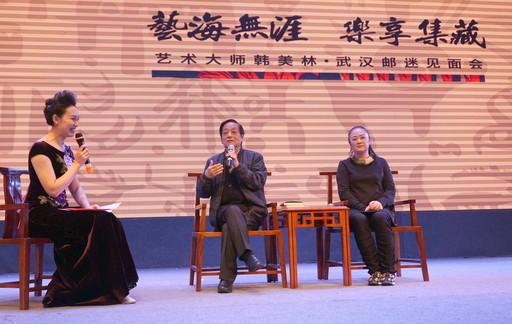 Chinese artist Han Meilin and his wife Zhou Jianping attended a meet-and-greet event for stamp lovers at Wuhan's East Lake Scenic Area on February 15.[China Post]
Chinese artist Han Meilin flew to Wuhan in central China to attend a stamp lover's meet-and-greet event with his wife Zhou Jianping at East Lake Scenic Area on February 15.
Themed "Boundless Art -- Enjoying Stamp Collecting", the event was hosted by China Post Hubei and the Hubei Provincial Philately Association, and co-organized by China Post Wuhan and the Wuhan Municipal Philately Association.
Han reminisced with anecdotes about art-related former happenings, talked about creative inspiration and artistic perception, and shared his passion for stamps, bringing round after round of laughter and applause.
Zhou Jianping described the creative process in writing her two books, Not Fade Away and Purgatorio•Paradiso, as well as funny behind-the-scenes events. She affectionately shared stories about Han Meilin's life, art success, 80 exhibitions and next plans.
General-Manager of China Post Hubei Ren Yongxin presented a zodiac stamp entitled "Art is Endless" to the couple. In return Zhou gave copies of her two books to Ren. Han and Zhou then gave autographs as mementos to stamp collectors and children at the end of the interview.
Han Meilin is a Chinese artist most recognized today for his creation of the Fuwa mascot for the 2008 Summer Olympics in Beijing. He is also known to have lived through hard times during the Cultural Revolution. He also designed the Five-Dragon Clock Tower sculpture for the 1996 Atlanta Summer Olympics. In 2015 at UN headquarters, he was named a UNESCO Artist for Peace.
(China Post)