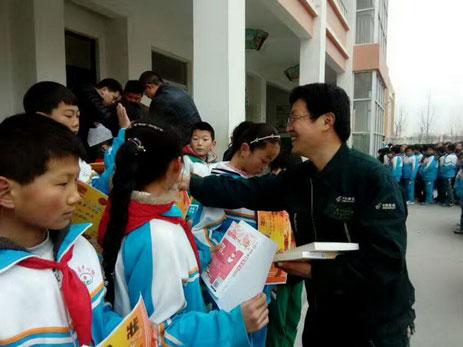 On March 13, Zhang Tongjun donated books to students at Huangzhen Township Central Primary school, all of them left-behind children.[China Post]
Zhang Tongjun, a mail carrier at China Post Huangzhen donated books worth more than 1,000 yuan (US$145) on March 13 to 55 students at Huangzhen Township Central Primary school in Heze, a city in east China's Shandong Province, all of whom are left-behind children.
Zhang recently participated in the "Caring for Left-Behind Children, Creating Love Mail Route" campaign by China Post Heze that called on help for children along the mail route by providing them with school supplies, help in their studies and becoming mentors to them.
Zhang has helped the children publish nearly 40 quality written articles in newspapers since last year, strived to cultivate their interest in study and warmed the children's reluctant nature, manifesting postal workers' great love.
To enable more children to feel the joy of learning, Zhang spent 1,000 yuan on books the students wanted and donated them, again showing his compassion.
Left-behind children in China are those whose parents from rural areas leave their children to move to urban areas in search of work. Children are left in the care of relatives such as grandparents, family friends or others. In some cases the care-giver may be unsuited or unable to give adequate care due to physical or financial reasons, leading to developmental issues in children such as vulnerability to becoming a victim of human trafficking, involvement in criminal activities or suffering from depression.
(China Post)