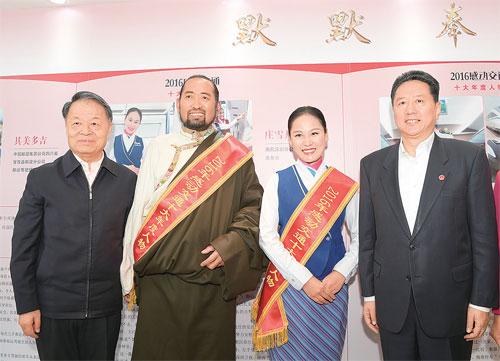 Chemi Dorjee (L2) poses for a photo with Yang Chuantang(L1), Party Secretary of the Ministry of Transport, and Li Xiaopeng (R1), Ministry of Transport.[China Post]
Awards for the 2016 Top 10 Touching Traffic Characters were given at a public presentation jointly held by the All-China Federation of Trade Unions (ACFTU) and the Ministry of Transport in Beijing on April 25.
A documentary short film showing the deeds of Chemi Dorjee, team leader of the postal drivers group at China Post Ganzi in southwest China's Sichuan Province, moved the audience deeply.
As a hero messenger walking the Sichuan-Tibet border, he has made his way through snow to carry mail with loyalty over the past 28 years.
When Chemi Dorjee took the trophy and honorary certificate, the audience broke into a round of applause.
He was the fourth postal worker to win the award. Chemi Dorjee was also selected "China transportation leader brand" in 2016 at the Second Search for Transportation Model Characters when he worked at the Kangding-Dege postal transport fleet.
Yang Chuantang, Party Secretary of the Ministry of Transport, Li Xiaopeng, Minister of Transport, and Yin Deming, ACFTU Party Member, attended the event and welcomed the Top 10 Touching Traffic Characters of the Year.
Director General of the State Post Bureau Ma Junsheng, Deputy Director General Xing Xiaojiang and Vice General-Manager of China Post Kang Ning exchanged talks with Chemi Dorjee after the presentation.
"It is not my own personal honor, but belongs to the postal team. I will take the leaders' messages back, lead the team to do better postal service work and strive for greater success," he said.
(China Post)