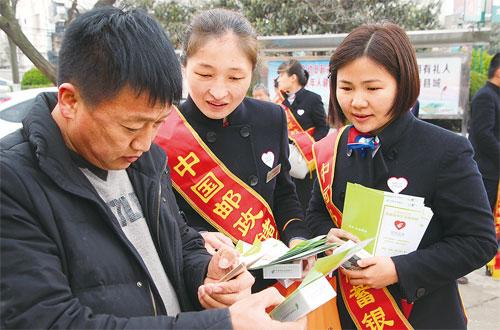 Workers from the Funan branch of PSBC Anhui publicize Postal Love public welfare activities on the street during their lunch break. They presented gifts to warm-hearted citizens who scanned the QR code and donated. [China Post]
To mark the 10th anniversary of the founding of the Postal Savings Bank of China (PSBC), the bank officially started the operation of the "Postal Love" open public welfare platform, with an integration of internal and external resources, on March 20.
In response to a call by the bank's head office, staff at PSBC branches began a walking fitness campaign on the bank's first public welfare day.
Wearing the logo of the Postal Love Public Fund, they walked in parks, train stations, streets and business districts to publicize the fund and PSBC public welfare day. In addition, they handed out publicity brochures to passers-by and invited them to scan the QR code to follow the official WeChat account and donate to charity.
PSBC outlets nationwide also supported and participated in the extensive publicity of the public welfare causes through posters, roll-up banners and LCD monitors, actively spreading positive energy.
(China Post)