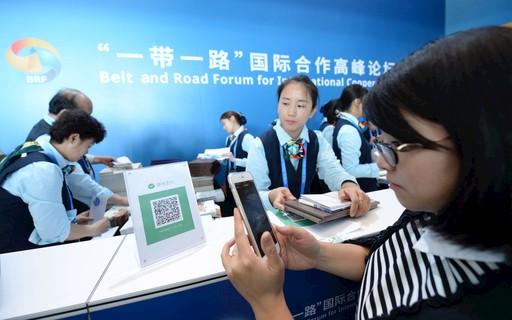 Temporary post office at the China National Convention Center offered WeChat payment services, bringing a convenient experience to stamp collectors. [China Post]
More than 1,500 delegates from 130 countries and 70 international organizations attended the Belt and Road Forum for International Cooperation held in the China National Convention Center in Beijing on May 14.
China Post Beijing provided services during the forum and offered Belt and Road-themed postal products that were popular among stamp collectors.
The Yayuncun Post Office in Chaoyang District set up a temporary post office at the China National Convention Center to carry out services beginning May 11.
They prepared the forum-themed first-day covers, notebooks, album collections and other items.
Stamp collectors were lined up in front of the temporary post office early in the morning to purchase Belt and Road-related postal items. They stamped commemorative postmarks on the items for collection or posted mail to relatives and friends.
Workers at the temporary post office were keen to serve the stamp collectors, and new methods such as WeChat payment also brought a convenient experience to them.
The sculpture "Silk Road Gold Bridge" by Beijing Guoli Artwork Company was displayed at the front of the post office.
"It means to build an international bridge under the Belt and Road initiative. It will become a friendly exchange bridge between country and country, people and people," said Ye Hongling, president of Beijing Guoli Artwork Company.
All postal items China Post issued at the opening ceremony were not only a witness to the forum but also memorable collectors' items.
The temporary post office sold 2,400 postal albums, 15,000 first-day covers and commemorative envelops and 22,900 stamped postcards that day.
(China Post)