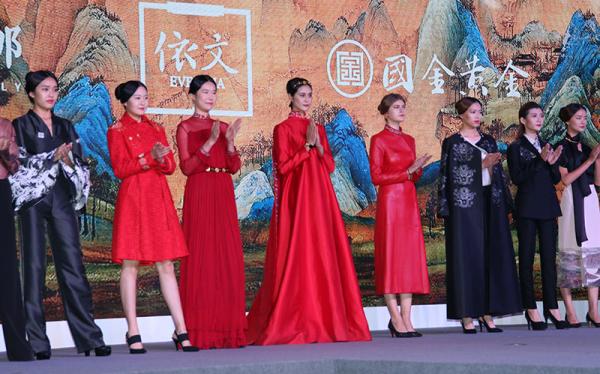 China International Collection Expo 2017 in Nanjing [China Post]
A unique fashion show themed "Chinese Dragon" unveiled the China International Collection Expo 2017 in Nanjing, east China's Jiangsu Province on September 8, the first time in China that a fashion show was staged as the opening act.
Developed and designed by EVE CINA and Guojin Gold Co.,Ltd., the design elements in the 20 sets of clothes and jewelry at the event were from the Chinese Zodiac sign dragon stamp by famous artist Chen Shaohua, Guo Chenghui, and the Great Wall stamp by renowned landscape painter Xu Renlong.
The dragon depicted in the stamps flies swiftly like a frightened swan. Fine embroidery in the fashionable dresses is as graceful as a swimming dragon. Stamp themes come from life and stamp culture reaches people's lives. The fashion show displayed cross-border development of Chinese philately and its integration with fashion.
China Post Vice General-Manager Li Pizheng, China National Philatelic Corp. General Manager Deng Huiguo and Vice General-Manager of Philatelic Department at Australia Post Chery Roy delivered speeches at the event. Other attendees included Yang Liwei, director of the China Manned Space Engineering Office and China's first astronaut in space, and Han Meilin, a Chinese artist most recognized today for his creation of Beijing 2008 Olympic Mascots Fuwa.
China Post and China World Trade Center jointly sponsored the event. It is reported that more cooperative achievements of the sponsors and supporters will be unveiled at China Fashion Week in October. China's stamp culture will bloom at that time on the international fashion stage.
China International Collection Expo is China's largest and most extensive international collection exhibition. Exhibits include stamps, collecting coins, badges, precious metals, paintings and calligraphy.
China International Collection Expo 2017 in Nanjing [China Post]
(China Post)