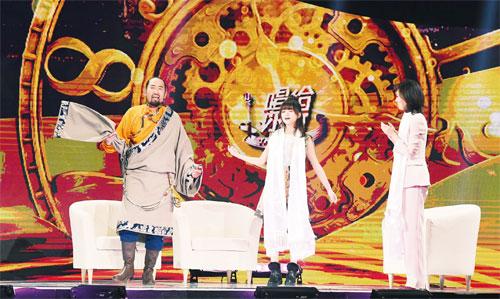 Chemi Dorjee (L) sings the Tibetan Toast Song together with Alan Dawadolma (C), a Tibetan singer from Kangding City in Sichuan. [China Post]
Chemi Dorjee, a team leader of the postal drivers group at China Post Ganzi County Branch, in southwest China's Sichuan Province and winner of the 2016 Top 10 Touching Public Transportation Workers award, was invited to appear on "The Song" program by the CCTV Chinese international channel recorded at the new CCTV studio in Beijing.
Driving mail carts up over the snowline on the western Sichuan Plateau for 28 years, he told touching stories about his work during the interview.
To implement the spirit of Chinese President Xi Jinping's speech at a meeting on literature and art, CCTV launched the documentary music program "The Song". Focusing on social hot topics, it records and interviews representatives from different segments of life and records their moving stories.
The program will be broadcast during the Spring Festival, or the Chinese New Year, holidays in 2018.
(China Post)