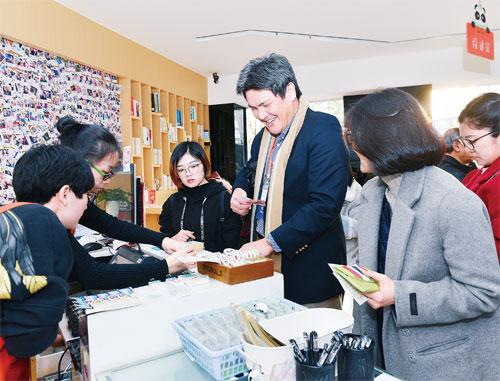 Fourteen representatives of the 18th China-Japan-Korea High-Level Postal Meeting felt the charm of postal creative products on pandas at a branch on Shaocheng Road in Chengdu, southwest China's Sichuan Province on December 8. [China Post]
Fourteen representatives who were attending the 18th China-Japan-ROK High-Level Postal Meeting visited the Panda Post Office Shaocheng Road branch in Chengdu, southwest China's Sichuan Province, on December 8.
The visitors enjoyed postcards with cute panda dolls, Q pandas, Chengdu snacks, meeting with locals and visiting landmarks. They repeatedly praised the characteristic postmarks, panda post boxes, creative products and photo wall.
China, Japan and Republic of Korea (ROK) Posts are important members of the Universal Postal Union (UPU), Asian-Pacific Postal Union and Kahala Post Group (KPG). They have jointly developed for 18 years since the first summit was held in 2000 with the summit becoming an important platform to exchange business innovation and enhance cooperation.
(China Post)