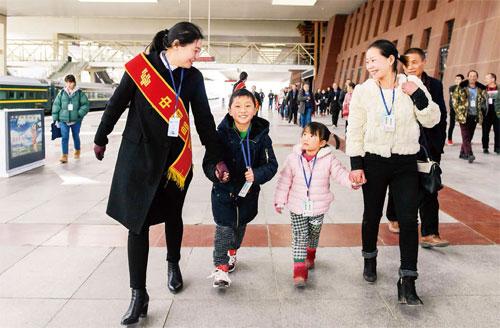 He Yun (L), vice general-manager of China Post Tibet sees migrant workers off at Tibet Railway Station. [China Post]
More than 200 migrant workers were presented train tickets from Lhasa to Chengdu during a large-scale public service event in Lhasa, southwest China's Tibet Autonomous Region, on December 20.
"Having worked in Tibet for more than 10 years, it is the first time that I have received a free train ticket," said Pan Houqing, a representative of migrant workers in Tibet. "The 'Happy Returning Home Together With China Post Service' activity has not only solved our problem of buying tickets, but also provided us with hot water, bread, and magazines, all of which make us feel very warm."
The migrant workers got on the train back to their hometowns after attending a ceremony at the Lhasa Railway Station.
The end of November and the whole month of December saw the annual exodus of migrant workers returning home for Spring Festival, or the Chinese New Year. Since the train is their main means of transport, the demand for train tickets increased sharply.
To help migrant workers return home smoothly, China Post Tibet jointly launched the public service in Lhasa, Shigatse, Lhoka, Nyingchi , Qamdo, Nagqu and Ngari Prefectures in conjunction with the Tibet Propaganda Department of the Party Committee, the Tibet Federation of Trade Unions, the Tibet Women's Federation and others.
China Post Tibet raised 600,000 yuan (US$91,754), presenting 1,764 migrant workers with train tickets from Lhasa to Chengdu or Chongqing.
The activity is divided into three stages:
Organizers opened hotline pre-registration for migrant workers at postal offices from November 1-December 10. Registered personnel then picked up tickets from November 20-December 10. Organizers saw the 1,764 migrant workers off at the railway station from December 20-25 during a warm ceremony.
China Post Tibet also invited doctors from Lhasa Fukang Hospital to measure their blood pressure and heart rate to ensure migrant workers return home safely and in good health.
Thanks to the event, 25-year-old Zhang Kaiyu, an interior decoration worker in Tibet, got a free train ticket. Another one was 37-year-old Wang Hao, who works in the construction industry in Lhasa. "Since the building site has stopped work, I am going to buy a train ticket to Chengdu. The free ticket delivery activity gives me warmth," he said.
With a thumbs-up, Penpa, member of the Party leadership group and vice-president of the Tibet Autonomous Region Federation of Trade Union, said, "Migrant workers are an important force for social development and urban construction."
"The public welfare activity is not only a concrete embodiment of the spirit of the 19th National Congress of the Communist Party of China, but also a strong support for the economic construction of the autonomous region, highlighting the social responsibilities of China Post as a large state-owned enterprise," said Penpa.
"The event is a manifestation of Tibet Post caring for the migrant population who construct beautiful Tibet," said He Yun, vice general-manager of China Post Tibet.
The caring activity for migrant workers is another "warm hearted project" by China Post Tibet to fulfill the responsibilities of a state-owned enterprise and service the people wholeheartedly, added He.
It meets its social responsibility, repays society with love, does practical things and solves difficulties for common people, she said.
China Post Tibet will continue to take root in the snow-covered plateau with sincere services, care for migrant workers, and actively participate in public welfare undertakings, contributing to the social stability, economic development and national unity of Tibet, she further added.
(China Post)