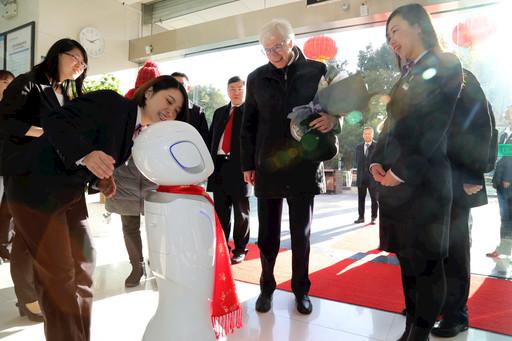 The intelligent robot named 'Chu Chu' greets Bengt Holmstrom, which arouses his great interest. [China Post]
Bengt Holmstrom, MIT economist and Nobel Prize winner, was invited to 'New Era New Opportunities New Changes', the 11th Xinhua Summit, jointly sponsored by the Postal Savings Bank of China (PSBC) Jiangsu and Xinhua Daily Press Group in east China's Jiangsu Province on January 13, 2018.
Accompanied by PSBC executive director and vice governor Zhang Xuewen, Bengt Holmstrom visited the PSBC Lushanlu branch with his entourage, experiencing the intelligent equipment there.
They held a forum discussing about how to establish an incentive and restraint mechanism, and how to deal with the relationship between short-term benefits and long-term development.
Bengt Holmstrom praised the bank's generous history and affirmed its exploration and practice in inclusive finance.
(China Post)