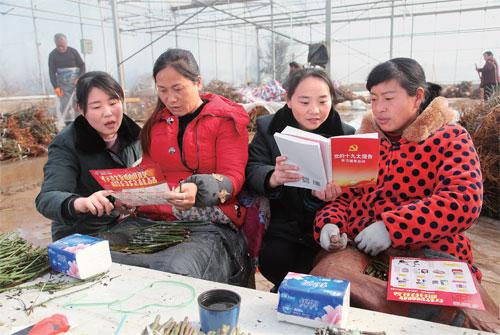 Postal staff from the China Post Shiqiao substation visit a China rose greenhouse in Nanyang and publicize to the spirit of the 19th CPC National Congress. [China Post]
At the end of this year's financial development season, staff visits to customers of the suburban post office in Nanyang, central China's Henan Province, were different from previous years.
The branch not only organized staff to pay a visit to farmers at greenhouses and publicize the advantages of Postal Savings Bank of China (PSBC) but also sent Party newspapers, magazines and pocket books to farmers and large-scale growers.
Postal staff explained the spirit of the 19th CPC National Congress in communities in popular and easy-to-understand language, which was well received by customers and effectively promoted the company's financial business.
With an annual net increase of 920 million yuan (US$ 140 million), the balance at the rural branch of China Post Nanyang reached 4.37 billion yuan (US$ 666.9 million) by December 16, first place among the city's postal outlets.
(China Post)