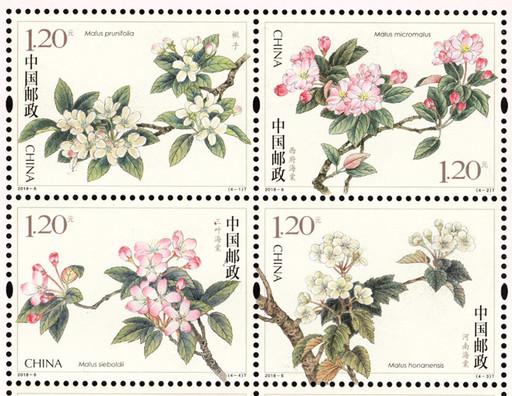 The special stamps entitled Malus Spectabilis [China Post]
China Post issued a set of four special stamps entitled Malus Spectabilis on March 25, which depict the pear leaf crabapple, midget crabapple, Malus honanensis and plum leaf crabapple.
The midget crabapple was Premier Zhou Enlai's favorite fruit tree.
What is the most significant is that 2018 marks the 120th anniversary of the birth of Comrade Zhou Enlai in 1898.
The set of stamps was issued to commemorate the great man.
Featuring traditional Chinese painting techniques, the stamps depict the exquisite twigs of the fruit trees.
The blossoms, buds, petals, stalks and leaves are depicted in a realistic fashion.
The off-white background highlights the elegant style of the midget crabapple.
The set of stamps was designed by the famous painter Gong Wenzhen, and carved by Ma Rong and Yin Hairong, and printed by Henan Post Printing Factory using woodblock overprinting.
Midget crabapple enjoys a long tradition in China and is widely distributed throughout classical gardens and public green spaces. It is very popular because of its beautiful and graceful flowers.
Numerous literati have mentioned Malus Spectabilis in their poems, for example Lu You, a patriotic poet in the Southern Song Dynasty (A.D. 1127-A.D. 1279).
(China Post)