China Post and Sichuan Changhong to Make Joint Efforts to Achieve Win-Win Cooperation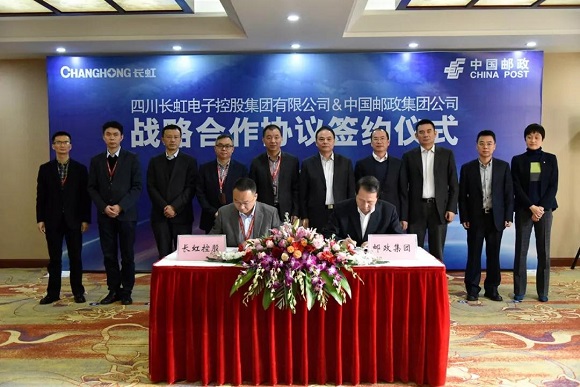 China Post signs a strategic cooperation agreement with Sichuan Changhong Electronics Holding Co., Ltd in Mianyang city, southwest China's Sichuan Province, on November 8, 2018.[China Post]
China Post signed a strategic cooperation agreement with Sichuan Changhong Electronics Holding Co., Ltd in Mianyang city, southwest China's Sichuan Province, on November 8, 2018.
In line with the principle of "innovative development and win-win cooperation," the two sides will further expand the scope and depth of cooperation, enhance the effectiveness of cooperation and promote common development.
China Post Vice President Zhang Ronglin and General Manager of Sichuan Changhong Li Wei attended the signing ceremony and gave speeches.
"As a large public service enterprise, China Post has been committed to fulfilling the responsibility of the central enterprises. Sichuan Changhong has a good brand and products, and the two sides have a good basis for cooperation," said Zhang.
"On the one hand, China Post will strengthen overall coordination to promote strategic cooperation and reach new achievements. On the other hand, we should make joint efforts to continuously enrich our products and services, providing better service for the people," he said.
Li said that the two sides would further strengthen the exchange of business information as well as business cooperation and communication, and further give play to complementary advantages to expand the market scale and achieve win-win cooperation.
According to the cooperation agreement, the two sides will further promote in-depth cooperation in the fields of products, channels, finance and logistics. Firstly, they will strengthen cooperation in products, and innovate and promote in-depth cooperation in accordance with their own business development, operation and market development. Secondly, they will further strengthen channel and supply chain cooperation. Thirdly, the two sides will expand financial cooperation, for example in the banking, insurance and securities business. Fourthly, they will strengthen cooperation in delivery logistics. The two sides will establish a consultation and exchange mechanism; determine methods and specific projects for strategic cooperation through regular visits of senior leaders, holding special meetings and setting up special groups; establish cooperation working groups to supervise and guide the overall development of the branches and solve problems arising from cooperation in a timely manner.
(China Post)