Dujiangyan Special Postal Products Go Viral at 2018 International Conference and 69th IEC Meeting of the ICID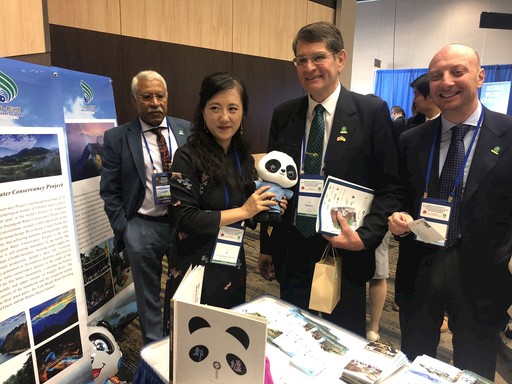 ICID president Felix Britz Reinders (R2) and vice president Marco Arcieri (R1) pose for a photo with a Dujiangyan Municipal Government official (L2).[China Post]
The Dujiangyan Irrigation Project was successfully declared part of the "World Irrigation Project Heritage" at the 2018 International Conference and 69th IEC (International Executive Council) Meeting of the ICID (International Commission on Irrigation and Drainage) in Saskatoon, Canada, on August 14, 2018.
The Secretary of the Dujiangyan Municipal Party Committee brought the special postal products developed by China Post Dujiangyan, which were one of the local special tourist products, to the conference. They attracted a lot of visitors, including ICID president Felix Britz Reinders and vice president Marco Arcieri. Britz Reinders showed great interest in the special stamps and imprinted the postcards with a postmark.
The exhibited items included the Panda Dujiangyan stamp album, Worship Water stamp album and Dujiangyan-themed postcards.
The ICID, established in 1950, is a leading scientific, technical, international not-for-profit, and non-governmental organization. The ICID is a professional network of experts from across the world in the field of irrigation, drainage, and flood management. The main mission is to promote "Sustainable agriculture water management" to achieve a "Water-secure world free of poverty and hunger through sustainable rural development."
(China Post)