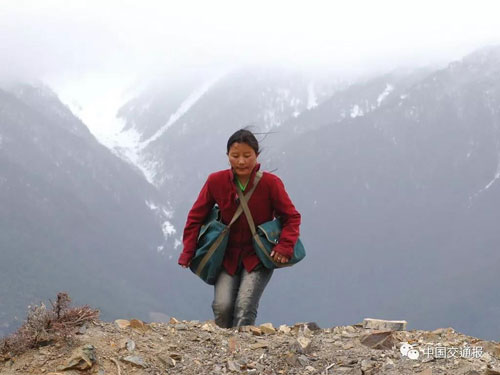 Nyima Lhamo [File Photo]
Nyima Lhamo was employed as a female mail carrier in a postal office of Dêqên County, south China's Yunnan Province, in 1999.
As one of the 16,000 postal workers, she needed to walk through scorching valleys at an altitude of 1,500 meters and climb over snowy mountains at an altitude of 4,500 meters at that time. Sometimes, she had to slide along steel wire with heavy mailbags.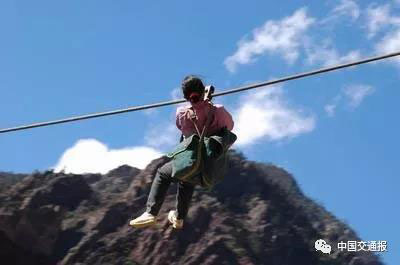 Nyima Lhamo is sliding along a steel wire with a heavy mailbag. [File Photo]
"I felt scared when I was asked for the first time to cross the roaring river to deliver mail," Nyima Lhamo recalled.
She looks back on eight years of slipping along steel wire and more than 10 years of delivering mail on foot. Nyima Lhamo carried mailbags weighing up to 20 kilograms every day and walked along three postal roads with a total length of 350 kilometers, providing universal postal services to more than 5,800 Tibetan compatriots who were scattered in dozens of villages located within 960 square kilometers in Yunling Township.
She had to endure climate change and unbearable loneliness in the mountains.
Bridges have been built across the Lancang River and roads connect the countryside. Nyima Lhamo can deliver mail by bus every two days.
"Most mail I delivered in the past was letters and newspapers. But now I mainly mail e-commerce parcels. The internet has opened a window for the postal world into people's life, " she said.
The postal office in Yunling Township launched Ule Shopping, a rural e-commerce platform, in 2016. Nyima Lhamo began to learn about e-commerce. She tried to help villagers sell local pollution-free fruits and vegetables to all parts of the country, leading them out of poverty.
In May 2011, a documentary about Nyima Lhamo was screened at the annual meeting of the Universal Postal Union (UPU) Operating Council in Bern, capital of Switzerland.
She gave a presentation to the audience at the meeting and became the first female rural postal worker to take the stage at a meeting of the UPU.
"Seeing me sliding along steel wires, a lot of people have asked me which is more important, life or mail? I told them that life is important and mail is also important. Once letters and parcels are on my shoulders, they become part of my life," she said.
After her speech, delegates from all countries stood up and gave her a round of thundering applause.
Now, she has won many titles, such as"Model Mail Carrier of the National Postal System,""Nomination of National Moral Model Award,""Model Laborer of the National Transportation System," "Top Ten Outstanding Youth of China,"etc.
Nyima Lhamo still travels around the rural postal roads of Yunling Township every day.
When a reporter asked her whether she worked too hard, she replied,"No. I am a model worker and a Party member. I must do a good job for the villagers."
(China Post)