"2022 Beijing Winter Olympics - Snow Sports" Commemorative Stamp-Launching Ceremony Held in Beijing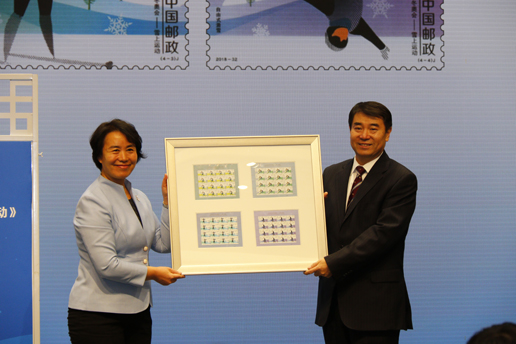 Han Zirong (L), secretary-general of the Organizing Committee and Li Pizheng (R), deputy secretary of the Communist Party Committee of China Post, jointly unveil the "2022 Beijing Winter Olympics - Snow Sports" commemorative stamps at a launching ceremony in Beijing on November 16, 2018. [China Post]

The Beijing Organizing Committee for the 2022 Olympic and Paralympic Winter Games jointly organized a launching ceremony for the "2022 Beijing Winter Olympics - Snow Sports" commemorative stamps with China Post Group in Beijing on November 16, 2018.
Han Zirong, secretary-general of the organizing committee and Li Pizheng, deputy secretary of the Communist Party Committee of China Post, jointly unveiled the commemorative stamps.
China Post has issued related stamps for all previous Olympic Games since 1992. During preparations for the 2008 Beijing Summer Olympics, China Post issued 13 sets of Olympic-themed stamps as well as series of postage products, which were popular among consumers in China and abroad. It has become an important part of China's promotion of the Olympic spirit, dissemination of Olympic culture, and record of the New China Olympic Games.
China Post issued a set of four commemorative stamps featuring the 2022 Beijing Winter Olympics-Snow Sports, namely Cross-Country Skiing, Alpine Skiing, Biathlon and Freestyle Skiing on November 16, 2018.
At the same time, China Post will launch a series of first-day covers (FDCs), souvenir envelopes, postal folders and albums which will be available in various postal outlets. Some of the products can be ordered at the Beijing Winter Olympic Games Chartered Commodities Official Online Store (http://beijing2022.tmall.com).
(China Post)