China Post Unit Awarded "Unit Making Outstanding Contributions to China's Targeted Poverty Alleviation Work in 2018" Title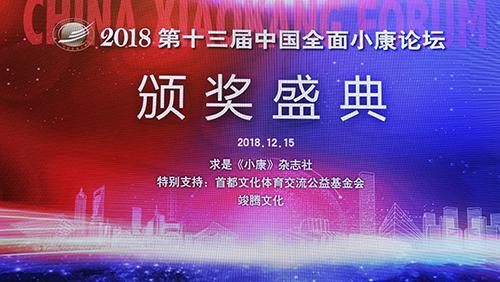 China Post Group is awarded the "Unit Making Outstanding Contributions to China's Targeted Poverty Alleviation Work in 2018" title at the 2018 China XiaoKang Forum in Beijing on December 15, 2018. [China Post]
With the theme of "High Quality Development and Securing a Decisive Victory in Building a Moderately Prosperous Society in All Respects," the 2018 China XiaoKang Forum opened in Beijing on December 15, 2018.
The event was jointly sponsored by the China Association for Poverty Alleviation & Development (CAPAD), the State Information Center and Qiu Shi Moderate Prosperity Journal.
China Post Group was awarded the "Unit Making Outstanding Contributions to China's Targeted Poverty Alleviation Work in 2018" title at the event.
In recent years, China Post has actively responded to the call of the Central Committee of the Party and the State Council by thoroughly implementing the poverty alleviation efforts championed by General Secretary Xi Jinping.
The group has brought the postal industry's advantages into full play and fulfilled due diligence in the postal services' poverty alleviation work, and achieved distinctive and fruitful results in poverty alleviation via e-commerce and financial services.
China Post has actively promoted the construction of the two-way circulation channels of "industrial products going to the countryside" and "agricultural products going to cities," and provided "one-stop" service online and offline.
The enterprise has increased capital investment, improved the breadth and depth of poverty alleviation, developed special products represented by "micro-credit business for poverty alleviation", and supported poverty-stricken households.
In terms of targeted poverty alleviation, China Post continued to intensify its poverty alleviation work in Shangzhou District and Luonan County of northwest China's Shaanxi Province during the 13th Five-Year Plan period.
The group has invested more than 11 million yuan (1.5947 million U.S. dollars) in a special fund from 2016 to 2017 that has helped more than 8,000 poverty-stricken people, and achieved remarkable results.
Video clips were also broadcasted at the event, showing that China Post has developed from a traditional postal enterprise dealing with letters, parcels, remittances, newspapers, and philatelic services to an enterprise group dealing with modern financial services, modern express logistics and e-commerce.
(China Post)