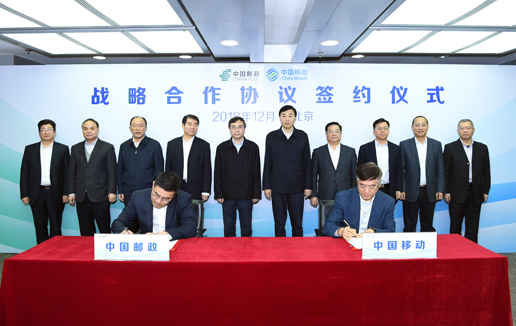 China Post Managing Director Zhang Jinliang and China Mobile Executive Director Li Yue sign a strategic cooperation agreement on behalf of the two sides in Beijing on December 14, 2018. Leaders of the two sides witness the signing of the agreement in Beijing. [China Post]
China Post Group signed a strategic cooperation agreement with China Mobile Communications Corporation (CMCC) in Beijing on December 14, 2018.
China Post President Liu Aili, Managing Director Zhang Jinliang, China Mobile Chairman Shang Bing and Executive Director Li Yue participated in the event.
Zhang and Li signed the agreement on behalf of the two sides. Leaders of the two sides witnessed the signing of the agreement in Beijing.
As large state-owned enterprises, both China Post and China Mobile have powerful network resources and customer resources in their respective fields. Previously, the two sides have carried out long-term, fruitful cooperation in the areas of network communication and the Internet of Things.
In line with the principle of "equality and mutual benefit, win-win cooperation and common development," the two sides decided to strengthen their strategic partnership, further develop the complementary advantages of their resources and capabilities, promote scientific and technological innovation, and jointly enhance core competitiveness in the field of digital services.
According to the agreement, the two sides will promote in-depth cooperation in many fields.
First, cooperation in communication and information services. China Mobile will provide China Post with basic telecommunications services, general information services, new infrastructure services and industry application services. The two sides will carry out value-added business cooperation.
Second, China Mobile regards the Postal Savings Bank of China (PSBC) as an important strategic cooperative bank. China Post will give full play to the advantages of the PSBC, consolidate and expand financial cooperation with China Mobile, intensify cooperation, enhance the cooperation level, expand the cooperation scope, and carry out relevant business cooperation in capital, insurance, securities and other financial fields.
Third, channel cooperation. Depending on their respective resources, the two sides will explore channels for mutual advantages, resource exchange and other modes, and expand cooperation in outlets and business.
Fourth, cooperation in the delivery logistics business. The two sides will consolidate and expand cooperation in the delivery of mobile business cards, invoices, financial documents, tickets, letters and bills, and explore ways to promote cooperation in warehousing and logistics.
Fifth, cooperation in customer service and publicity. The two sides will explore cooperation in members' rights and interests, point interchange and customer loyalty management. They will give full play to the advantages of their respective media channels, strengthen resource-sharing as well as their well-coordinated and inter-connected approach.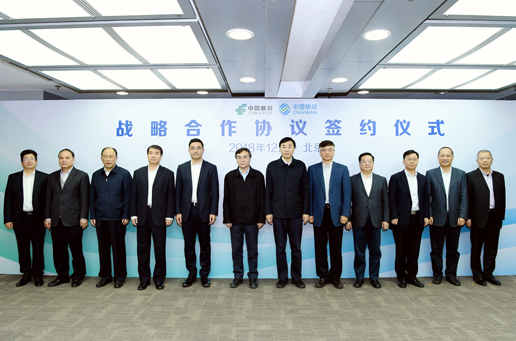 Leaders of China Post and China Mobile pose for a photo at the signing ceremony. [China Post]
(China Post)