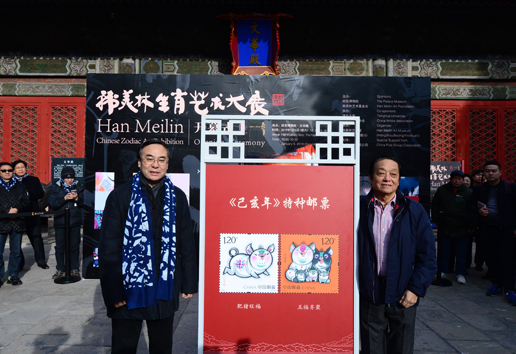 Famous artist and designer Han Meilin (R) and President of China Post Group Liu Aili (L) unveil the Year of Jihai special stamps. [China Post]
The Opening Ceremony of the "Han Meilin - Chinese Zodiac Art Exhibition" and the launching ceremony of the special stamps featuring the Year of Jihai were held at the Palace Museum in Beijing on January 5, 2019.
This set of stamps was unveiled by famous artist Han Meilin, who designed the stamps, and President of China Post Group Liu Aili.
They also launched the exhibition in the presence of Chairperson of the China Federation of Literary and Art Circles (CFLAC) Tie Ning, curator of the Palace Museum Shan Jixiang, famous writer Feng Jicai and Deputy Secretary of the Communist Party Committee of China Post Group Li Pizheng.
Bai Yansong, a famous host, presided over the ceremony.
China Post issued a set of two special stamps featuring the Year of Jihai, namely "Pig Brings You Blessings" and "Five Blessings Gathering" on January 5, 2019.
In the first stamp "Pig Brings You Blessings," a pudgy pig is joyfully running in a dynamic way, symbolizing striving towards a better life. The second one, "Five Blessings Gathering," fully reflects the concept of "family happiness" in a Chinese zodiac stamp, and expresses wishes for a happy new year.
It was the third time that Han Meilin designed the zodiac stamps after he designed the Year of Guihai in 1983 and the Year of Dingyou in 2017.
"The Zodiac culture is ancient national culture. And national culture is our root and source, it is the addition and consummation of modern Chinese culture. Artists should inherit the excellent tradition of Chinese national culture and at the same time innovate it," said Han at the ceremony.
"Stamps inherit culture, affect people's lives and concepts, and impact people in all aspects. China Post will devote more energy to stamp-related work and expand the cultural industry," said Liu.
In order to meet the demands of the public, the special stamps went on sale in more than 2,000 designated postal outlets and the online philatelic shop of China Post on the day the stamp was issued. China Post will strive to promote the development of the philatelic and creative industries to meet the increasing need of the public for cultural consumption.
On the same day, the Han Meilin Art Museums in Hangzhou and Yinchuan also held a launching ceremony for the "Year of Jihai" special stamps. Hangzhou Han Meilin Art Museum held an exhibition on zodiac animal paintings, and Yinchuan Han Meilin Art Museum displayed 80 zodiac culture-themed stamp collections as well as the collections of the Han Meilin Art Museum.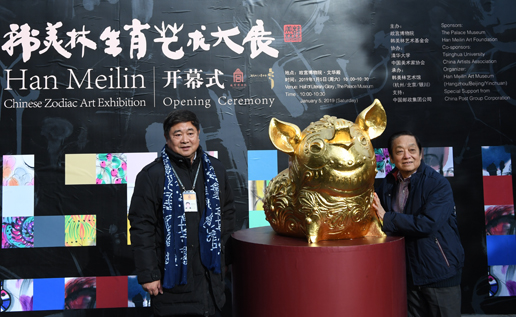 The "Han Meilin - Chinese Zodiac Art Exhibition" opens at the Palace Museum in Beijing on January 5, 2019. [China Post]
(China Post)