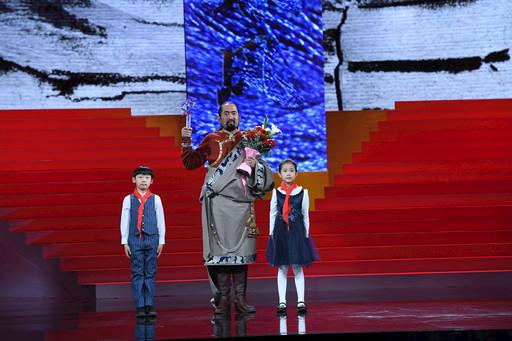 Chemi Dorjee is elected as one of the "Figures Touching China in the Year 2018" at an awards ceremony in Beijing on February 18, 2019. [China Post]
The awards ceremony of the "Figures Touching China in the Year 2018" was broadcast by the Central Radio-Television General Station in Beijing on February 18, 2019.
Chemi Dorjee, a postman of the China Post branch in the Garzê Tibetan Autonomous Prefecture, Sichuan Province, was elected as one of the Figures Touching China in the Year 2018.
Having worked on the Garzê-Dege section of the Sichuan-Tibet postal route for 30 years, Chemi Dorjee overcame harsh natural conditions and calamities to complete every mail delivery task.
Facing the threat of gangsters, he risked his life to protect the mail he was entrusted with. He was passionate about helping the people along his postal route that links the Tibetan area with the mainland.
He is fearless of danger and difficulty and has been driving postal trucks up over the "Snow Line Postal Route" with an average altitude of 3,500 meters on the western Sichuan Plateau for many years.
In addition to delivering Party newspapers, magazines and letters, Chemi Dorjee delivered parcels to Tibetan areas in recent years. Meanwhile, he also delivered specialized Tibetan agricultural products to outside areas, which has contributed to the economic and social development of Tibetan areas.
He was named one of the "2016 Top 10 Touching Traffic Characters" by the All-China Federation of Trade Unions (ACFTU) and the Ministry of Transport in 2017.
Chemi Dorjee was listed in the "Chinese Good Fellows" in the same year.
In 2018, he was awarded the Sichuan May 1 Labor Medal, the "Advanced Individual of National Postal System" title and the honorary title of "Special Salute to the Past 40 Years of Reform and Opening-up."
In January 2019, the Publicity Department of the Central Committee of the Communist Party of China (Publicity Department, CCCPC ) awarded him the title of "Role Model of the Times" at a ceremony.
As a spiritual brand created by the Central Radio-Television General Station with outstanding personalities as the main content, the selection of "Figures Touching China of the Year" selected those who touched the hearts of the whole country since the campaign was launched in 2002.
It has selected more than 180 outstanding people from all walks of life over the past 16 years, and is known as the "Chinese People's Annual Spiritual Epic." The selected figures touching China also become "models of the times."
Adhering to the principles of fairness and openness, the selection of the "Figures Touching China in the Year 2018" organized a variety of voting methods and has received wide attention and active participation from audience members and netizens since it was launched at the end of 2018.
(China Post)