On June 5, China Post Group and Huawei Technologies Co., Ltd. (hereafter referred to as Huawei) signed a strategic partnership agreement. Liu Aili, Chairman of China Post Group, Zhang Jinliang, President of China Post Group, and Xu Zhijun, Rotating Chairman of Huawei attended the ceremony. Wen Shaoqi, Vice President of China Post Group, and Lu Yong, Vice President of Huawei and President of Huawei China, signed the agreement on behalf of both parties.
According to the agreement, the two parties will establish a comprehensive strategic partnership based on their respective core competitiveness. With their complementary strengths and shared resources, they will carry out in-depth cooperation and achieve mutual growth in financial business, technological innovation, express and logistics, as well as talent development. China Post and Huawei will strengthen cooperation in the fields of distributed architecture, consulting & planning, smart logistics, smart campus, cloud computing, big data, SDN agile network, smart outlets transformation, green energy-saving data center and agile branch. They will also conduct prospective studies on new technology, and work together to explore the application of ICT in the three business segments of China Post including financial service, parcel, express and logistics service and postal service, and promote the ICT digital transformation of China Post.
As a large State-owned conglomerate that both fulfills the obligations of universal and special postal services, and operates modern financial services, modern logistics and express services and rural e-commerce, China Post has a postal network that reaches the whole world and covers both urban and rural areas, postal outlets that spread all over the country and reach thousands of households, as well as comprehensive service platforms and e-commerce platforms for the convenience and benefits of people, all of which play an important role in promoting the high-quality development of the economy and society and meeting people's needs for a better life. China Post is committed to the responsibility of the "national team" in the industry and focuses on providing customers with comprehensive and diversified services.
As the world's leading provider of ICT infrastructure and intelligent terminals, Huawei persists in continuous innovation based on customers' needs, increases investments in basic research, and provides corporate clients with a "digital platform" for their digital transformation. Through "ubiquitous connectivity + digital platform + pervasive intelligence", Huawei is dedicated to fostering the base of digital China, becoming the core of the digital world, and constructing a fully connected, intelligent world.
China post and Huawei are strategic partners complementing each other in resources, services and channels. Previously, the two sides have cooperated in the fields of finance, logistics and talent development. This time, the strong combination between the two sides and their cooperation in higher level, deeper layer and wider scope will help consolidate their respective competitive edge and industrial status, and bring customers new experience, higher value and better service. According to the agreement, China Post and Huawei will jointly establish a "China Post - Huawei New Technology Application Lab", PSBC and Huawei will jointly establish a "PSBC - Huawei Joint Innovation Center". The fourth industrial revolution has crept in. Faced with the current new historic opportunities and challenges, the two sides will rely on the "joint innovation mechanism" to further deepen their all-round cooperation and join hands on their way towards the success of digital transformation.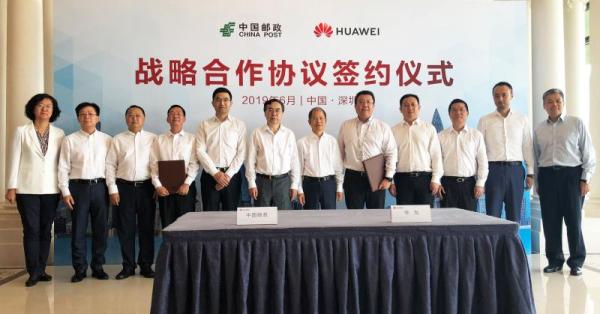 Liu Aili, Chairman of China Post Group, Zhang Jinliang, President of China Post Group, and Xu Zhijun, Rotating Chairman of Huawei, attend the signing ceremony