Jointly sponsored by China Post Group and All China Philatelic Federation, the "Philatelic Week 2019" campaign was held from August 3 to August 8. The theme of the campaign remains to be "Chinese Dream, Philatelic Passion". Its overall planning is still "activities every day, focal points everywhere, and gains for everyone". Philatelic societies and postal enterprises at all levels, together with other organizations, provide platforms and guidance for community philatelic professionals and other philatelists to carry out a variety of activities. There are 6 different themes fitting into the 6 days of the Philatelic Week, making the campaign rich and colorful. The 6 themes are: philately and travel—enjoying beautiful scenery through philatelic products; philatelic member day—making friends through philatelic products; philately and young people—acquiring knowledge from philatelic products; philately and culture—spreading traditional Chinese culture through philatelic products; philately and love—love stories on philatelic products; philately and the Chinese zodiac—viewing the starting ceremony of the printing of the Year of Rat zodiac stamps.
Since 2016, the Philatelic Week has been held for 4 consecutive years. Many people are attracted by the activities of the hot "festival" on the hot summer days. From the first year when there were over a thousand offline activities, to this year when activities are held both online and offline, more and more people are engaged in it. The philatelic methods have also become more and more flexible, and the image of philately more and more vivid. Moreover, the Philatelic Week has increasingly become an effective platform for the post to communicate with philatelists and the public. If you're interested, come and enjoy yourself in the Philatelic Week next year!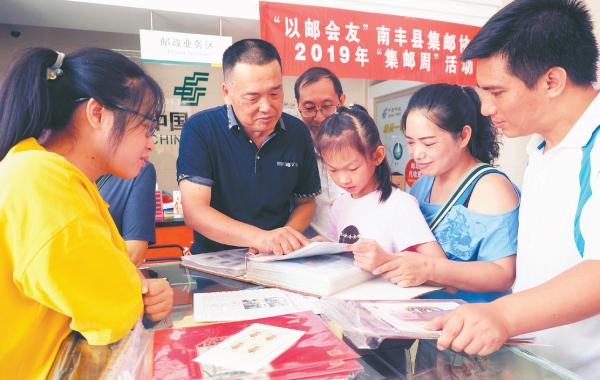 On August 4, the Philatelic Week campaign in Nanfeng County, Jiangxi Province is held in the business hall of the branch post office. Many stamp collectors actively participate in it. They are all attracted by the delicate designs of the beautiful stamps. Mao Xiaomin, Vice President of the Philatelic Federation of Nanfeng County, is talking about the stamp album of "World Heritage" in a simple and easy-to-understand way so that everyone can appreciate the beauty of the world heritage through stamps.
The branch post office of Yanjiang District, Ziyang City, Sichuan Province, combining rural tourism with philatelic activities, is carrying out a "grapes picking + Philatelic Week" event.
On August 3, the first-issue ceremony of the special stamps "Landscapes of the Five Great Mountains" is held at Yide street, Hunyuan County, Datong City, Shanxi Province, where Hengshan Mountain in the North is located. The ceremony is kicked off in a magnificent performance of the "Hengshan Fitness Regimen Taichi". Nearly 100 spectators gather at the foot of the Hengshan Mountain to witness the issuance of the special stamps.
During the "Philatelic Week 2019", Guizhou Postal Branch holds a flag-conferring ceremony for the campers of the 7th Philatelic Summer Camp of Guizhou.