China Post launches strategic cooperation with Sinochem Group and ChemChina to advance rural revitalization strategy
On March 16, China Post Group Corporation Limited (China Post Group) signed a strategic cooperation agreement with Sinochem Group Corporation Limited (Sinochem Group) and China National Chemical Corporation Limited (ChemChina) in Beijing. Mr. Liu Aili, Chairman of China Post Group, Kang Ning, Vice President of China Post Group, Mr. Frank Ning, Chairman of Sinochem Group and ChemChina, Mr. Yang Shihao, Deputy General Manager of Sinochem Group, Mr. Yang Xingqiang, General Manager of ChemChina, and staff members from relevant departments of the 3 companies attended the signing ceremony.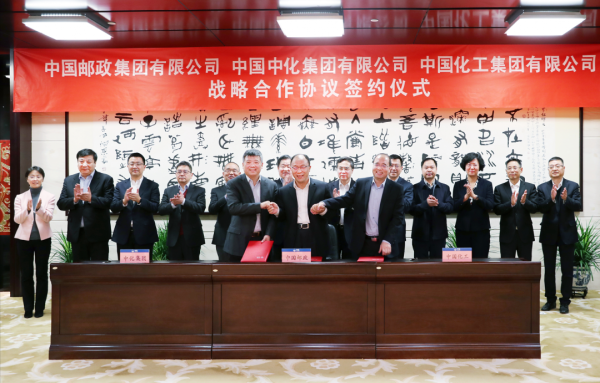 In line with the principle of "mutual benefit, strategic alliance, and mutual complementarity", the three parties will make full use of their own good resources to establish long-term strategic partnership and carry out more in-depth cooperation on three rural issues (agriculture, rural areas and farmers), construction of agricultural production bases, all-round financial cooperation, agricultural big data information interconnection, and high-quality brand building, in order to provide the society with more high-quality products, convenient services, and improve the core competitiveness of the three parties.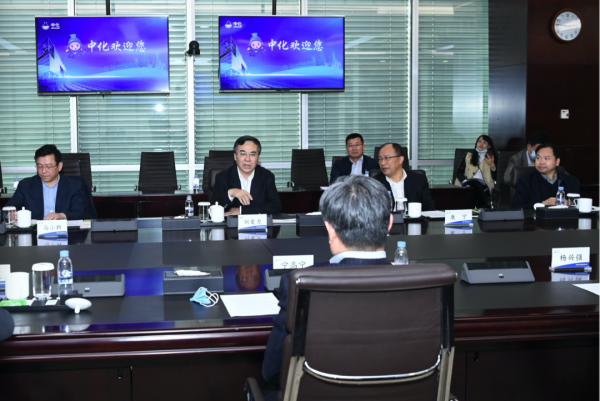 According to the agreement, the three parties will jointly build a comprehensive "three rural issues" service ecosystem, give full play to their respective advantages, and work together to build a comprehensive platform that combines online and offline services to benefit farmers. For the front part of the agricultural production, the service ecosystem will rely on China Post's agricultural service platform and the distribution network covering urban and rural areas to promote the joint construction of farming material distribution channels and model innovation. For the middle part, it will rely on the modern agricultural platform (MAP) of Sinochem Group and the online and offline channel resources of China Post Group, jointly creating an "online plus offline" technology service platform that benefits farmers. For the end part, the three parties will jointly promote the brand building and expand the sales channels of agricultural products. China Post Group and Sinochem Group will leverage their respective advantages to promote the construction of agricultural production bases. They will try to explore and build a synergetic operation mode of "industry + finance", and select key domestic provinces to serve as benchmarks, and roll out their successful mode at the right time. The two parties will join hands to promote the creating and sharing of agricultural big data information, based on their respective advantages in the whole process of big data collection, processing, and application. Meanwhile, when it comes to establishing a wide-ranging and multi-level financial cooperation system, China Post's financial institutions, Sinochem Group and ChemChina will fully utilize their resource endowments to carry out comprehensive and in-depth cooperation in aspects such as data, products, and channels. As for the cooperation in delivery and logistics, China Post and Sinochem Group will promote the integration of warehousing logistics resources and customer resources to further strengthen collaboration in the field of delivery and logistics. At the same time, the two sides will also strengthen cooperation in the areas of brand promotion, business consulting, city operations and value-added services.
Sinochem Group is a leading integrated operator in oil and chemical industry, providing agricultural inputs (seeds, agrochemicals and fertilizers) and modern agricultural services, and exerting strong influence in city operation and non-banking financial service sector. ChemChina is a state-owned enterprise established by reorganizing companies affiliated to the former Ministry of the Chemical Industry of People's Republic of China, and it is the largest chemical enterprise in China. ChemChina operates in six business sectors covering new chemical materials and specialty chemicals, basic chemicals, oil processing, agrochemicals, tire & rubber products, chemical equipment. ChemChina has production and R&D bases in 150 countries and regions worldwide, and boasts a full-fledged marketing network.