Hainan Postal Branch makes efforts to support Boao Forum for Asia Annual Conference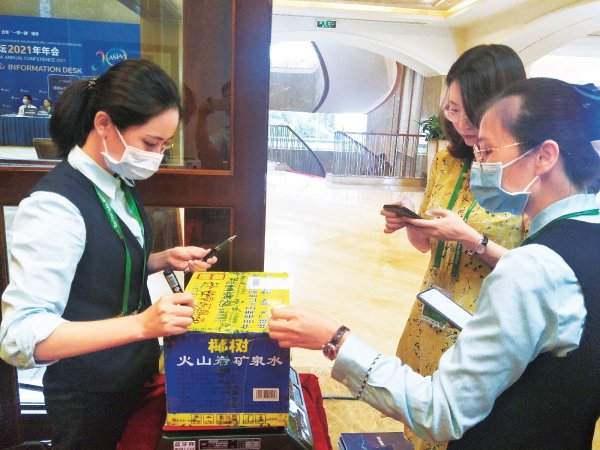 Postal employees are handling mail service at BFA service point.
From April 18 to 21, Boao Forum for Asia (hereinafter referred to as BFA) Annual Conference 2021, with the theme "A World in Change: Join Hands to Strengthen Global Governance and Advance Belt and Road Cooperation", took place in Boao, Hainan. This annual conference is the world's first large-scale international conference mainly held offline this year. In order to better ensure the security service during the BFA annual conference, Hainan Postal Branch implemented the decisions and plans made by the CPC Central Committee and the CPC Hainan Provincial Committee and Hainan Provincial Government on security work during the conference, focusing on the two key points of delivery service security and corporate stability, and requiring that all units concerned make every effort to ensure the security and support of the conference with the highest standard, the strictest measure and the best state.
The year 2021 marks the 20th anniversary of the establishment of BFA, therefore, this annual conference is also a celebration of the 20th birthday of the forum. In the past 20 years, BFA has witnessed the extraordinary journey of China, of Asia and of the world, and has exerted a significant influence in boosting development in Asia and beyond.
On the site of the forum, Hainan Postal Branch specially set up a BFA service point, and selected 5 employees with highly professional and service-minded qualities as well as a strong sense of political integrity to provide services such as mail collection, distribution of newspapers used for the conference and delivery of offshore duty-free items for the annual conference guests, news media reporters and conference staff. Mail service for offshore duty-free items is a service newly launched this year, which can effectively solve the inconvenience caused by carrying large items on board a plane. In addition, Hainan Postal Branch provided all non-postal logistics and express companies in Qionghai with unified security inspection and transportation services for their express items entering Boao area during the conference.
For prevention and control of COVID-19 and security as well, Hainan Postal Branch requires that all the staff members entering the core area of the conference be one hundred percent vaccinated, those entering Boao area test and record their body temperature and wear medical masks every day, and vehicles be disinfected once a day. To ensure the security of mail items, all items addressed to Qionghai must strictly comply with the "three 100%" requirements for mail collection, that is, 100% check of contents in mailing, 100% real names of the sender and receiver and 100% security inspection. Mail items sent to Boao area were subject to three security checks and disinfection. Temporary control was imposed on mail items collected from hotels, railway station, street mail boxes and other places where people flow in Qionghai. Besides, Hainan Postal Branch also strengthened emergency response management in the whole process, implemented a strict 24-hour duty system, resolutely guarding against and defusing major security risks.
According to statistics, the BFA service point of Hainan Postal Branch has collected and delivered 344 conference-related mail items, 1,570 conference newspapers and periodicals, 213 postcards, 47 registered letters, and 17 offshore duty-free items from April 18 to 21. Not a single service quality and security issue occurred during this period.