On June 25, China Post Group Corporation Limited (China Post Group) and Dongfeng Motor Corporation (hereafter referred to as DFM) held a working meeting and signed a strategic cooperation framework agreement at the headquarters of China Post Group.
Kang Ning, Vice President of China Post Group, and You Zheng, Vice President of DFM, had an in-depth discussion on strengthening long-term strategic cooperation between the two parties and signed the agreement on behalf of both parties. Heads of relevant departments from both parties attended the meeting.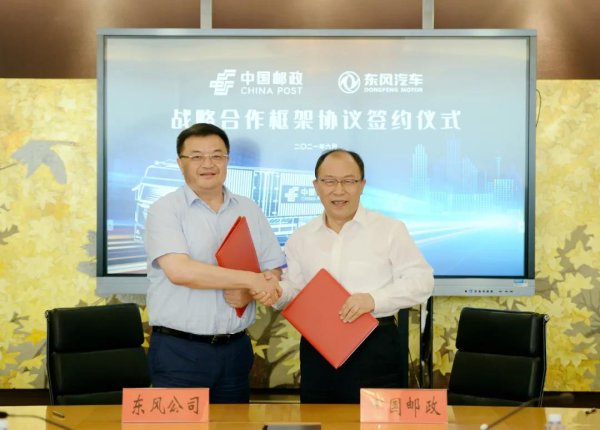 After more than 50 years' development, DFM has become one of the enterprises with the longest and most comprehensive industrial chain and value chain in the automobile industry. Its main business covers an entire range of commercial vehicles, passenger vehicles, new-energy vehicles, parts and components, equipment, travel services and auto finance, etc. China Post and DFM have been maintaining extensive cooperation all along the time in a wide range of fields such as vehicle procurement, finance, express and logistics, etc. According to the strategic cooperation agreement signed this time, in accordance with the principle of "resource sharing, advantages complementarity, win-win cooperation and common development", both sides are committed to establishing a long-term win-win strategic partnership, giving full play to their respective advantages of resources, business and services, better fulfilling the missions of state-owned enterprises in the new era, and promoting the sustainable and healthy development of enterprises.
According to the agreement, China Post and DFM will push forward in-depth cooperation in many fields to put into practice the all-round, long-term and stable strategic partnership. Being mutual key clients in business fields, both sides will establish a long-term, stable and quick cooperation and exchange mechanism, building a sound platform for their joint development of new businesses and expansion of new markets and promoting their mutual benefits and win-win development in more fields. The two parties will actively explore business cooperation in market expansion, vehicle procurement and operations, financial services, express and logistics, joint development of service system, comprehensive service in plant area, intelligent logistics and other fields, so as to achieve mutual development.