On August 25, China Post officially launched the Guangzhou-Tokyo international cargo air route. The Boeing 737-800F flies to Tokyo four flights a week, Wednesday to Saturday.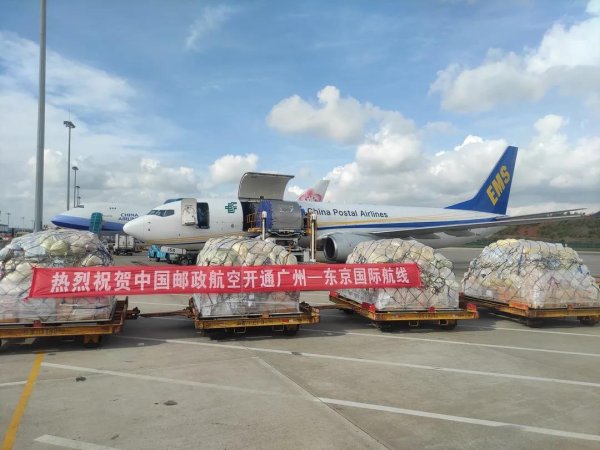 The Guangzhou-Tokyo route is the second international route opened by China Post this year, following the Nanjing-Osaka international route, which was opened on April 28. At present, the independent aviation network of China Post boasts 6 international air routes to Japan, namely Guangzhou-Tokyo, Shanghai Pudong-Tokyo, Zhengzhou-Tokyo, Yiwu-Osaka, Shanghai Pudong-Osaka and Nanjing-Osaka. With their combined strengths, the above air routes not only improve the overall timeliness of mail to Japan from such ports as Guangzhou, Shanghai and Zhengzhou as well as such places as the Yangtze River Delta, the Pearl River Delta and the area around Zhengzhou, and effectively stabilize the time limit of mail transport to Japan from other major cities in China, but also help improve the timeliness of the international mail to Europe and America via Japan, thereby providing vigorous support for the development of the international postal service of China Post.
Since 2020, China Post has successively opened such independent international air routes as Zhengzhou-Seoul, Shanghai Pudong-Tokyo, Zhengzhou-Tokyo, Kunming-Bangkok, Dalian-Seoul and Nanjing-Osaka, and increased the frequency of the Shanghai Pudong-Osaka independent international air route. Meanwhile, it has also launched several "China Post" exclusive international mail cargo routes on a regular basis by leveraging civil aviation transportation capacity. Through these efforts, China Post greatly strengthens its international air cargo capacity at multiple levels, actively serving China's new development pattern of "dual circulation", where the domestic economic growth plays the leading role while the international economy is positioned as a useful supplement.