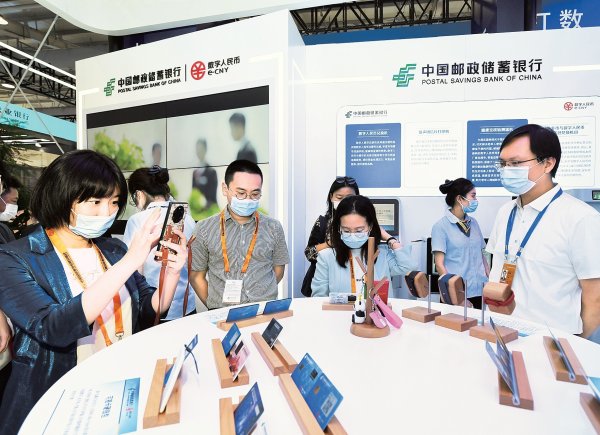 A series of innovative products displayed in the exhibition zone of PSBC attract great attention.
The 2021 China International Fair for Trade in Services (hereinafter referred to as CIFTIS) is being held from September 2 to7 in Beijing. This year's CIFTIS is themed "Towards Digital Future and Service Driven Development". More than 10,000 enterprises from 153 countries and regions have registered for online and offline exhibitions. President Xi Jinping delivered a video speech on the evening of September 2 at the Global Trade in Services Summit of the CIFTIS. It is the first time that two venues are used for the CIFTIS, namely Shougang Park and the China National Convention Center. Comprehensive exhibitions at the China National Convention Center feature achievements in service trade, the service sector in different countries, provinces (regions, municipalities) and Hong Kong, Macao and Taiwan regions, and digital services, etc. In addition, eight thematic exhibitions for enterprises are held at Shougang Park, which fully display new technologies, new models and new achievements in various fields under the development trend of digitization, networking and intelligence.
At the CIFTIS, China Post releases comprehensive cross-border e-commerce logistics solutions. The Postal Savings Bank of China (hereinafter referred to as PSBC)and China Postal Express & Logistics Co., Ltd. make their wonderful appearance at Shougang Park among the exhibitors. The Green Post Initiative of China Post has been selected as a demonstration case of green development service and the Belt and Road Initiative Cross-border Chinese Currency Project Loan of PSBC selected as one of the Service Practices in China. The PSBC's booths on Digital RMB (or e-CNY) Avenue attracts many visitors and exhibitors every day.
Digital and high-tech elements of PSBC
As one of the representatives of the financial industry, themed financial services enabling the beautiful life of millions of families, the exhibition of PSBC highlights such aspects as digital finance, inclusive finance and sci-tech finance. PSBC fully showcases the innovative practical achievements of digital transformation, and fully displays the digitization of users, the perfection of user experience, product personalization, data capitalization and scenario-based services. Its immersive financial experience which is full of technological elements has brought a strong impact to the visitors.
As one of the top state-owned banks, the financial strength and responsibilities of PSBC are perfectly reflected in its serving the real economy and the people's livelihood. In the exhibition section of "Benefiting Thousands of Families", measures and achievements of PSBC in serving rural revitalization, people's livelihood and the real economy are well displayed.
In terms of serving rural revitalization, PSBC actively promotes the construction of rural credit system, explores and innovates online loan products for credit users, and continuously enriches the supply of digital products through offering "fast micro loans".
In the aspect of serving the people's livelihood, PSBC actively meets the diversified consumption needs of customers, and launches a WeChat mini program to provide such convenient and fast online loan services as loan amount calculation, loan calculator, and other related services.
Strengthening data and technology empowerment, PSBC also launches an online loan product targeted at small and micro businesses to help them solve financing difficulties. Users can operate completely online and it takes only a few minutes to get a loan.
The Postal Savings Bank of China Beijing Branch launches a mini program that provides localized "pan life circle" services. With the mini program, customers can receive coupons offered by sellers, experiencing one-stop preferential services for eating, drinking and playing. Meanwhile sellers can acquire online customers and carry out marketing efficiently by relying on the advantages of multiple outlets and wide channels of PSBC.
In the section of "Creating Financial Ecology through Technology Empowerment", visitors can click and touch the on-site interactive screen made of somatosensory radar technology, to know and buy the popular commodities provided by PSBC Canteen (a platform offering daily necessities, which brides the needs of its clients and small and micro sellers). Based on the Canteen, PSBC vigorously explores ecological scenarios, develops online services, and actively constructs a smart ecosystem of "finance plus service" by means of intelligent technology application, internal channel integration and external cooperation, so as to create characteristic financial ecological value.
"Video mobile business hall" launched by PSBC is also amazing. Through making use of the cutting-edge technologies and means such as online verification, OCR recognition (optical character recognition), remote audio and video technology, it breaks the limitations of offline business space. By simulating offline business processing scenarios, it can carry out contactless remote banking services and provide customers with warm financial services anywhere, anytime. Presently, the Postal Savings Bank of China Beijing Branch has applied "video mobile business hall" into the construction of fortune center to build a remote interactive system for fortune consultancy, by which back office fortune consultants can remotely support front office financial managers to visit financial customers through online audio and video connection, thus effectively shortening customer service management process, offering more efficient asset allocation services and upgrading user experience.
In the exhibition zone of PSBC, visitors can tailor their CIFTIS souvenir card on site via personalized card printing service provided by PSBC, which is also an innovative attempt of integrating new technologies with traditional services. The souvenir card adopts advanced image recognition and processing technology, encryption algorithm technology, retransfer and double-sided printing technology, which can meet the personalized demands of customers. This kind of printing technology can also be applied to such cards with uneven surface like smart cards. Visitors upload their personalized photos through mini program, and within few minutes they can get a CIFTIS souvenir card which has rich, bright colors and clear picture quality.
Digital RMB application achievements of PSBC
As the exhibition highlight at the trade fair, PSBC displays a series of achievements related to digital RMB at its stand on Digital RMB Avenue next to the exhibition zone of financial service. A variety of interesting and interactive activities make visitors feel the changes brought by digital RMB to life, and get a better understanding of digital RMB and financial technology.
On Digital RMB Avenue, visitors can try out more digital RMB payment scenarios provided by exhibitors such as State Grid, WUYUTAI Tea, Arrail Dental, Yuanmingyuan Cultural Creation,GUOJIN Gold, ETC (Electronic Toll Collection) system.
The experimental activities offered by PSBC like drawing blind boxes of philatelic products, printing personalized voice postcards, attract the attention of many visitors. "Take a look, I spend one digital yuan and win a prize, a set of CPC's centenary philatelic products," a lady tells her friend excitedly. In the immersive screen interactive photo-taking area, the visitors put on pose one after another, leaving a memorable moment.
Since the pilot scheme of digital RMB in Beijing, the Postal Savings Bank of China Beijing Branch has made several innovative achievements, which are displayed together at the trade fair.
The contactless visual card-like wallet launched by PSBC resembles an ordinary bank card. The E-Ink screen in the upper right corner clearly displays the payment, card balance and health QR code. The most striking feature of the hard wallet is that it can be used to pay normally when it is not connected to the Internet, which is of great helpful for the elderly to cross the "digital divide" and catch the "digital express".
The unmanned digital-currency-payment experience car cannot be underestimated also. It has many super powers that can realize multiple functions like unmanned driving, remote operation, mobile financial service, and so on.
Omnipresent postal supply chain and business services
The exhibition of supply chain and business services, themed "High quality promoting dual-circulation, high efficiency boosting new development --- Express delivery making life better", is a new thematic exhibition. China Postal Express & Logistics Co., Ltd. shows its service strength and excellent practices s in pushing cross-border e-commerce export and ensuring smooth trade.
Responding to the needs of the government and the industry for cross-border e-commerce delivery, adapting to the demands of the Belt and Road Initiative and implementing the specific requirements of boosting express industry to extend to the rural areas, western regions and foreign countries, China Post has substantially expanded and deepened its cross-border delivery network. Nearly 700 million pieces of mail and express items were exported through the channels of China Post in 2020. Especially after the outbreak of the COVID-19, giving the full play to its advantage of far-reaching network, China Post opened up international logistics channels to transport mail by China-Europe block train and ship. While keeping mail routes smooth and clear, China Post has provided solid logistics support for countries along the "Belt and Road" to fight the epidemic and resume economic production.
Now, depending on its over 60 Offices of Exchange (Mail Units) and more than 900 international air routes, China Post can despatch mail to 174 ports worldwide. In addition, China Post has established 13 overseas warehouses in 8 countries and regions including the USA, the UK, Japan and Russia. Relying on the UPU network, China Post has achieved network coverage in more than 200 countries and regions around the world.