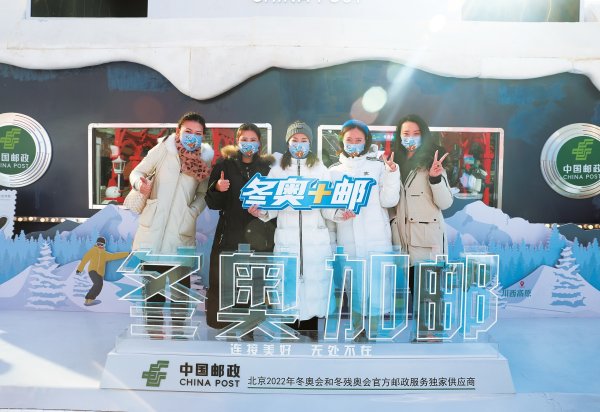 The audience documented their visit to the pop-up store
On January 16, China Post launched a Winter Olympics themed flash mob in Beijing. The flash mob event was devoted to combining culture with sports, telling the story of Beijing Winter Olympics well through the ice and snow activities, making the audience and tourists experience the charm of ice and snow sports and root for Beijing Winter Olympics together.
Piao Xuedong, head of the marketing development department of the Beijing Organizing Committee for the Olympic Winter Games, said in his message, as a large state-owned enterprise, China Post possesses high-quality parcel, express and logistics service and postal service, and is sophisticated in guaranteeing major tasks. It has been promoting cooperation in the Olympic cause by fast response and execution and high-quality service. China Post is always the important force of China in promoting the Olympic spirit, disseminating Olympic culture and recording the journey of Olympic movement of People's Republic of China. Meanwhile, it is always the determined and faithful supporter of China's Olympic cause. China Post has set up an offline pop-up store which drives the trend of nationwide winter sports, with the hope to make more people know, get familiar with and involve themselves in the Winter Olympics through the flash mob event.
Head of the Market Department of China Post Group Corporation Limited said in his speech, the Winter Olympics is the world's largest multi-sport event, and China Post has been historically tied with Olympics. Since 2019 when China Post became the official exclusive supplier of postal services for the 2022 Beijing Winter Olympics, it has been staying committed to the principle of delivering an Olympics with a "green, inclusive, open and clean" approach, making every effort to guarantee high-quality postal services, contributing to hosting an excellent Beijing Olympic and Paralympic Winter Games, which is a major task of the Party and the country. China Post has never been absent in driving sports industry in China onward and building China into a leading sporting nation. China Post will jointly build and share a streamlined, safe and splendid Games with Beijing Organizing Committee for the 2022 Olympic and Paralympic Winter Games.
Recently, China Post has launched 2021-2022 brand promotion activities themed Winter Olympics, blending the topic of Winter Olympics together with that of the Spring Festival to root for the Games. The flash mob chose its theme to be "Winter Games plus Post", and the pop-up store chose Winter Olympics blue as the main color of its appearance, collocated with pink of high saturation to represent the striving spirit of the Olympic movement and the goodness of pursuing dreams. Postal elements were integrated into various interactive zones built inside the pop-up store to promote the cultural charm of the Beijing Winter Olympics, including a giant stamp album, experience zone for curling, VR experience zone for skiing, fancy house of ice and snow.