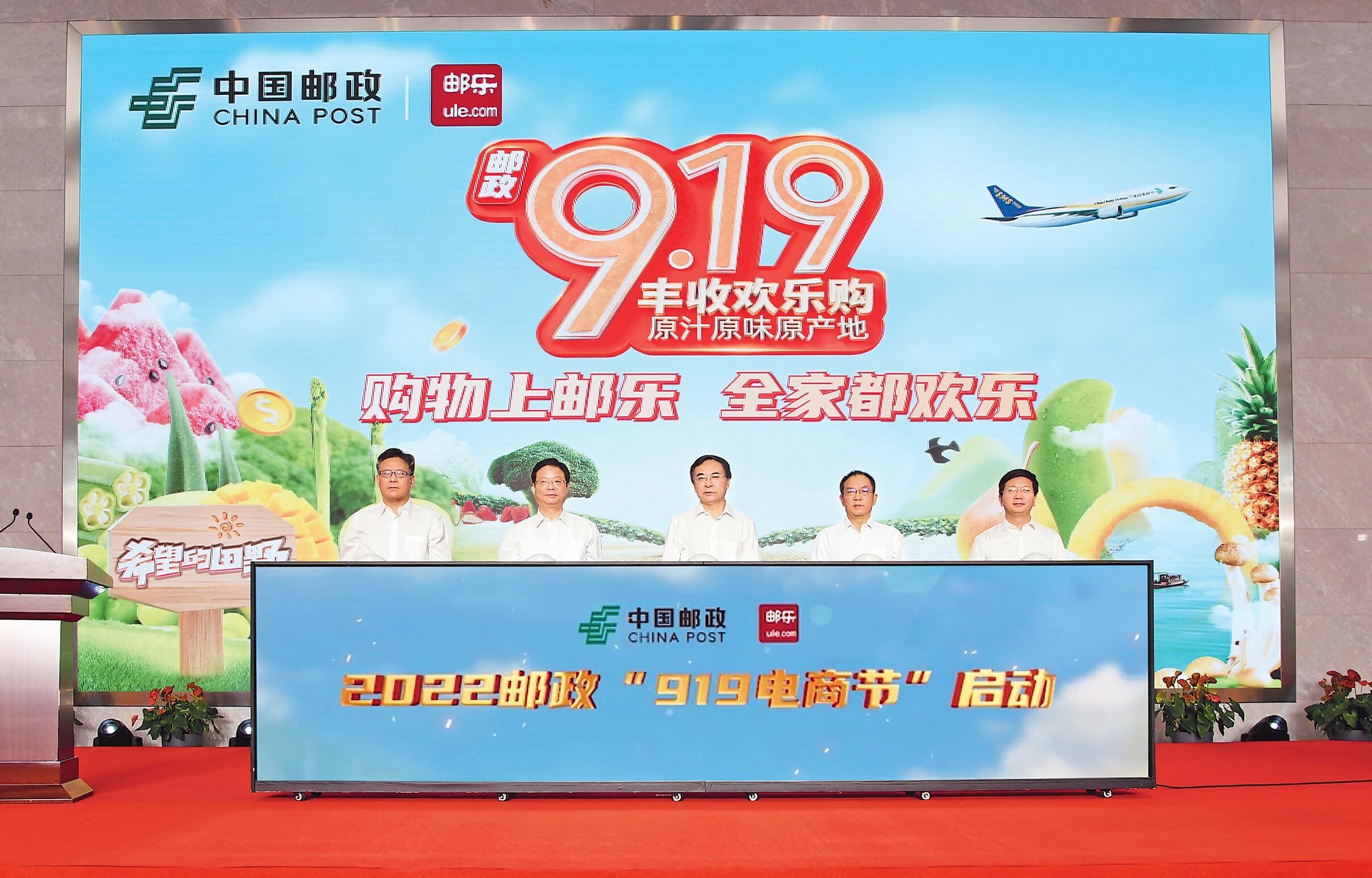 On September 1, the 6th "September 19 Postal Ecommerce Festival" kicked off officially. During this year's festival, also one of events in the Golden Autumn Consumption Season of the 5th Chinese Farmers' Harvest Festival sponsored by the Ministry of Agriculture and Rural Affairs, China Post will further highlight the theme "September 19 Postal Ecommerce Festival—happy shopping in the harvest season", and launch 10 major activities like "10,000-Order Plan" for rural revitalization and special promotion "Top 100 Brands" as well as community group buying "10,000 Shopping Groups". In this way, it aims to generate profits and increase income for farmers, boost high-quality consumption in rural areas and prosperity of agriculture, thereby developing a new rural ecommerce ecosystem of China Post and injecting new momentum into rural revitalization. Present at the ceremony were Dai Yingjun, deputy director-general of the State Post Bureau, Zhao Tieqiao, an official from the Department of Rural Cooperative Economy of the Ministry of Agriculture and Rural Affairs, Li Fujun, an official from the National Rural Revitalization Administration, Ma Xulin, director of the Department of Universal Postal Service of the State Post Bureau, Zhang Xiang, deputy director of the Department of Circulation Industry Development of the Ministry of Commerce, Chairman Liu Aili of China Post Group Corporation Limited (China Post Group), Vice Presidents Kang Ning and Wen Shaoqi, as well as Chief Accountant Guo Chenglin of China Post Group.
Liu Aili said in his speech that over the years, China Post has given full play to its uniquely innate advantage in commodity flow, logistics, capital flow and information flow, and made every effort to foster an ecosystem for the coordinated development of postal enterprises and farmers, in which farmers gain profits, consumers benefits, China Post customers and government praise. Since the beginning of this year, China Post has strengthened the top-level design and resource investment in the development of rural ecommerce. It has completed the capital increase in the holdings of ule.com, perfected the functions of this ecommerce platform, and enhanced its operation and support capabilities. Sticking to the three core elements of best-selling products, inventory management and business combination, China Post has fostered 857 best-selling agricultural products with 10,000 orders and 81 hot-selling industrial products with orders worth over 10 million yuan, built 420,000 ULE stations that integrate ecommerce, postal, financial and other scenarios, and improved the comprehensive capabilities in serving rural areas by providing the stations with inventory management. It has strengthened the construction of three-tiered logistics system at county, township, and village levels, reinforced the digital empowerment of postal outlets and ULE stations, and accelerated the construction of warehousing facilities and the deployment of self-pickup stations. Moreover, China post has established 1,000 standardized farm produce bases, and pushed forward the combination of public and postal transportation as well as the cooperation between postal and express enterprises, further strengthening the aggregation of channels and the operation capabilities of infrastructural network in rural areas, effectively opening up the two-way logistics channels in rural areas, and making new breakthroughs in expanding the scale of two-way commodity flow that combines reaching upstream to cities and downstream to countries. Up to now, the upstream commodity flow has come up to 6.6 billion yuan (about 945 million US dollars) and the downstream one 7 billion yuan (about 1.01 billion US dollars).
Zhao Tieqiao said in his speech, the "September 19 Ecommerce Festival" was the prelude to the postal system's celebrating Chinese Farmers' Harvest Festival. The harvest festival is a festival for farmers, while the "September 19 Ecommerce Festival" provides a platform for farmers to integrate into the big urban-rural market. Since 2018, the Ministry of Agriculture and Rural Affairs and China Post have deepened the strategic cooperation between agribusinesses and postal enterprises to initiate and implement the cooperation projects that benefit farmers. While carrying out the projects, China Post has fully leveraged its advantages in network covering both urban and rural areas, and comprehensively promoted the operations of the five major types of clients, including administrative villages, farmer cooperatives and family farms, large family farming businesses, agriculture enterprises, and rural supermarkets. It has also focused on solving the three key difficulties in financing, sales and logistics, explored the development of an integrated model of coordinated service and one-stop solution to inclusive finance, rural ecommerce and parcel, express and logistics. China Post has held the "September 19 Ecommerce Festival" for 6 consecutive years. As one of the series of events of the Golden Autumn Consumption Season of Chinese Farmers' Harvest Festival, the ecommerce festival, through various activities coordinating production and sales, promotes the sales of farm produces to cities, and meets the demands of urban and rural residents for diversified and quality-oriented consumption. With its increasingly strong social influence, the festival has become a resounding brand of the postal system in its engagement in rural revitalization.
At the launch ceremony, Dai Yingjun and Li Fujun presented trophies and certificates to the representatives of the top 10 ace mentors for ULE stores across the country. Zhang Xiang, Wen Shaoqi and Guo Chenglin presented trophies and certificates to the representatives of the top 10 ace marketers of China Post.
On behalf of China Post Group, Kang Ning exchanged cooperation agreements respectively with four partners, namely COFCO Corporation, Easy Joy Corporation of Sinopec, Vinda International Holdings Co Ltd, and Sinochem Holdings Co Ltd, to continually expand the ecosystem for benefiting farmers.
During the "September 19 Postal Ecommerce Festival" this year, China Post will further increase resource allocation, and foster a win-win festival for different parties, carrying out special activities to help and benefit farmers through coordination between postal enterprises and government as well as postal enterprises and merchants. It will broaden the sales channels for farm produces, improve logistics and distribution system, fully integrate into local economic development, and boost the virtuous cycle of farmers' income increase and consumption quality improvement. Also, it will further promote the popularity of the activities, and foster a festival with postal characteristics. China Post will make full use of its channel resources to drive more traffic to the platform. It will enhance operation effect by linking online and offline activities, enrich customer acquisition scenarios by coordinating postal outlets and ULE stations, and expand traffic by connecting public and private spheres, hence a new retail model for rural ecommerce with postal characteristics. At the same time, China Post will further enrich its marketing matrix, creating ever-lasting ecommerce campaigns. It will focus on postal farm produces and best-selling wholesale products to build marketing scenarios linking social communities to neighborhoods. It will promote the synergy between the headquarters and branches, mobilize all postal employees to engage in creating a multi-dimensional marketing matrix. China Post is committed to enriching the contents of the theme "happy shopping in the harvest season", and continuously carrying out shopping sprees like "Double 11", "Double 12" and Lunar New Year's Shopping Festival, thus running ecommerce campaigns throughout the year and bringing benefits to the people.