China Post is to issue a set of two commemorative stamps entitled The 60th Anniversary of the Publication of Mao Zedong's Inscription "Learn from Comrade Lei Feng" on March 5, 2023. The designs are named respectively Comrade Mao Zedong's Inscription and "Lei Feng" Statue. The denomination of the whole set is 2.40 yuan, and the planned circulation is 7.5 million sets.
Lei Feng, a late Communist soldier and a role model of serving the people wholeheartedly, was born in Hunan province on December 18, 1940. Throughout his lifetime, he studied hard, and worked selflessly for the public interest. In addition to completing his own work, he often helped others, and fulfilled his promise of "devoting the limited life into limitless service for the people". Lei Feng died in the line of duty on August 15, 1962. On March 5, 1963, the People's Daily published Mao Zedong's inscription, calling on the whole country to learn from comrade Lei Feng. Since then, activities of learning from Lei Feng have widely spread throughout China. This year marks the 60th anniversary since revolutionaries of the older generation, including Mao Zedong, wrote inscriptions for comrade Lei Feng.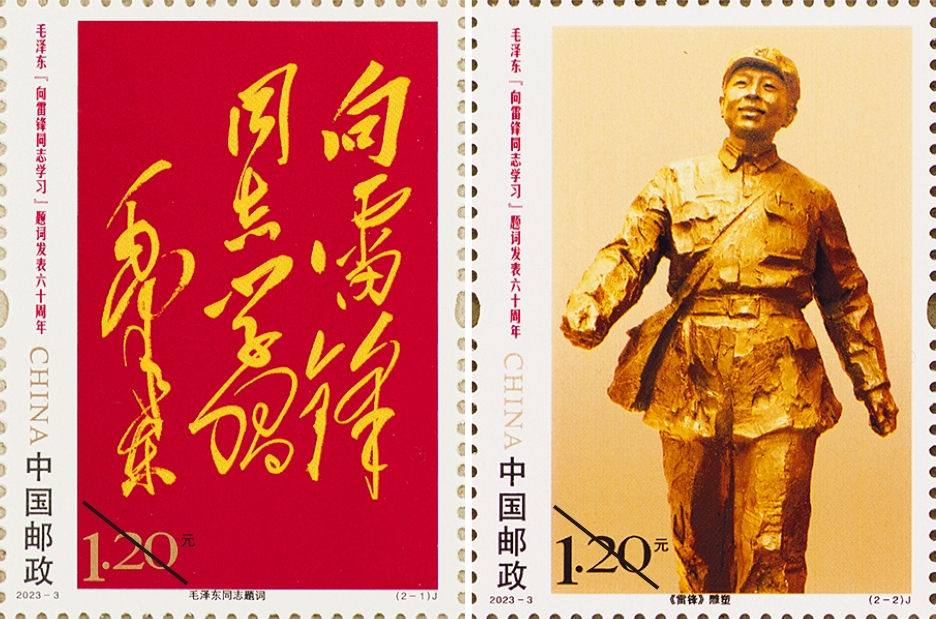 The first stamp, Comrade Mao Zedong's Inscription, presents the inscription "Learn from Comrade Lei Feng" written by Mao Zedong, symbolizing that the Lei Feng spirit is passed on from generation to generation and will never fade. The second stamp, "Lei Feng" Statue, features the bronze sculpture "Lei Feng" created by Wu Weishan, which depicts the moment when Lei Feng walked in the spring breeze with a smile on his face, symbolizing the spirit of Lei Feng is brought to the new era, full of vigor and vitality.
This set of stamps is designed by Wu Weishan and Shi Yuan and printed by Beijing Stamp Printing House Company Limited through offset intaglio (the first design) and photogravure (the second design) technologies.
The stamps will be available for six months at designated postal outlets nationwide, online mall of China Philately, the mobile app of China Post, the WeChat Mall for philatelic products in the official WeChat account and the WeChat mini program of China Post Group. To present more information about the stamps, China Post will release the digital contents through the WeChat mini program "Encyclopedia of China Philately and Stamps", where philatelists can learn more about the stamps via its AR function.